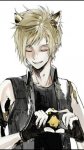 Joined

Nov 17, 2006
Messages

4,357
Awards

2
Age

34
WELCOME TO THE SELPHIE FANCLUB!
(C) Candylanger
I will update the first page withmore stuff later.
Menwhile, you can join, state you're reason why Selphie deserves her own FC and just talk about how adorable she is :3
Reasons
1. She's so adorable!
2. She can fight,
WITH A JUMP ROPE
3. She's a wonderful friend, concerned for Riku's well being both in KH1 and KH2, as well as for Kairi's after KH1 when Kairi stares at the horizon, worrying about Sora.
Founder
Rixam
Members
Araliya
Strawberry
*~BlackCat~*
Candylanger
Smile
rokudamia2
Reflection
Zeagal
Organization_42
RoseateDawn
Danica Syer
aswaxsora
Lord Marluxia
TwilightRiku_13
Fanart
Chibi Selphie by *A-Little-Kitty on deviantART
http://fc06.deviantart.net/fs9/i/2006/018/1/d/Kairi_x_Selphie_yuri_by_Autumn_Sacura.jpg
Perhaps a Flower... by ~Miina-san on deviantART
Riku.... by ~Maki123 on deviantART
Selphie by *Khalitzburg on deviantART
http://angelickitty89.deviantart.com/art/FFVIII-Selphie-59130876
Chibi Selphie by ~capsicum on deviantART
Fanfics
http://forums.khinsider.com/fanfiction/120887-kh-changes-sora-selphie.html
OFFICIAL SELPHIE KEYCHAIN FOR EVERYONE
Last edited: