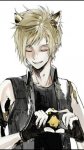 Joined

Nov 17, 2006
Messages

4,357
Awards

2
Age

34
Yep, I signed up here 10 years ago today
I haven't really been much active here in the last 5-6 years or so, but I've recently returned because... Well, I did really miss this place, and it's impossible to really leave khi for good.
I sigbed up with the user name rixam, and capitalized the R later. Changed the name a little back and forth, (I went by Mari for a while) and now I'm just Rix
When I signed up here, I didn't expect to meet so many great friends here, and we had so much fun together
I've seen just a few familiar names around here today. But to any of my friends reading this, I would like to say thank you for everything, and I'm so glad I got to meet and befriend every single one of you! Even though we haven't kept in touch, you have all been on my mind and I will never forget you.
And to all of you new people, it's nice to meet you
I'm looking forward to more wonderful years at KHi