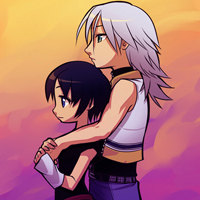 Joined

Jan 31, 2008
Messages

16,306
Awards

5
Age

37
Location
Website
[size=+3]
</3 The Roxas/Namine HATE club </3
[/size]
You were never supposed to exist, Roxas
- and neither was this ship.
[size=+2]
-INFORMATION-
[/size]​
Why isn't this a Critic club, but a Hate club? Because there isn't too much
to
critic.
The two came in contact with each other for the sole reason of eliminating Roxas's existence and bring Sora back.
Namine went as far as to tell Roxas to his face to go away and that he'll be whole within Sora, thus also denying his own individuality.
Roxas doesn't even know who she is beyond the freaky blonde girl who stops time and knows everything. He might as well date
Yen Sid
, he's less likely to have the guy disappear on him, leaving him heartbroken. Also, less of a chance for the man to be kidnapped by shady, masked individuals. A better option for Roxas all around.
They then went a whole game not even acknowledging each other's existence until finally they were reunited for the lone goal of postponing
Sora
and Namine's reunion and force Sora and Kairi into promising to see each other every day, all so that two people who were never supposed to even Be will continue existing inside the people they came from.
[size=+1]RokuNami; I frown at thee. FROWN![/size]
Opening post to be fleshed out as we go along.
[Size=+2]
-REASONS-
[/size]
Roxas doesn't even know Namine
Namine only wanted to wake Sora up, not even giving Roxas a choice
Namine promised Xion she'll look after Roxas, she's living up to her promise, is all
What's a brief, traumatic encounter compared to a year's worth of sharing ice cream with a black haired version of her?
Membership open~
[size=+2]
-MEMBERS-
[/size]
Founding Member:
Smile
Co-Founders:
Rali
Theart
blackberi|Sign|White-Light|vnnk|Crimson|Ethnic Woman
rokudamia2|destinykh|Lord betrayus|Chakolat Strawberry|Relix|chasespicer056
Rixam|june|CA59|xion XIV