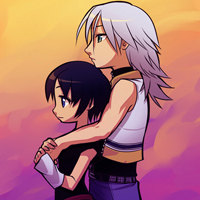 Joined

Jan 31, 2008
Messages

16,306
Awards

5
Age

36
Location
Website
Its basically the coexistant ship that doesn't mess with the balance of SoKai and works with it, therefore it is the only other ship worthy of being thought of as canon by the general fandom.
Hence why people instantly thought, when CoM came along, that Namine'd be Riku's romantic interest - because SoKai was already 'canon' so it didn't interfere with it. But then we got SoNami :V Herp a derp
I also have a problem with the whole nobody thing, because Namine isn't like Kairi and Roxas isn't like Sora, so I don't see how they would share the same feelings as their somebodies.
Namine not being like Kairi is actually quite an important foundation for
SoNami
if you ask me, ironically. That is, in a way, how I can see one sided RokuNami - Sora loves Namine so Roxas'll love her too. But both because of SoNami itself as well as supposedly Namine sharing Kairi's feelings we get Namine fawning over Sora :V alas, poor Roxas's love can never be.