Joined

Aug 13, 2008
Messages

5,170
Awards

3
Location
Website
To no surprise, there is yet another one for the mass to
read Take note, that i have mentioned this theory before in
another thread, but this is more substantial setting. Please
let me know what you think.
In the depths of Hollow Bastion We witness a scene after the first battle between
Riku and Sora, that shows Riku being flustered over his loss. At that moment,
Xehanort's heartless advised a greater strength residing with the Darkness, and
in order to achieve that strength, he would have to give in to the darkness in absolute.
It is apparent that Ansem SOD, is well aware of that anger/ aggressive nature.
When Riku opened his heart to darkness Xehanorts Heartless created a bond between
the two bodies. For a moment they were one, but Riku refused to become a part of him.
I came to fruition, that perhaps the identity between what we've seen, and know as the
Dark Soldier, and Riku differ. It's not only in a means of fighting, but also an act of
obedience. My personal guess is that perhaps the DS mutually agreed with the ambitions
of Master Xehanort, and thus they completely became one being.
If the DS allowed himself to open up to darkness than his heart would be consumed
(would it not?). To my knowledge, the only thing that would keep him(the DS's body)
intact would be fact that him and MX are one being. In this case, MX can shell his heart
between him and the DS if the DS's heart wasn't already consumed for purposeful
reasons. Like i have said before it is of a mutual bond that they would become one
being, while of course, Master Xehanort will be of the dominant presence. If MX resides
his heart within the shell of the DS then killing him will not release his heart, but the
memories of his heart will be encased within the Dark Soldier as a preserve, creating
a whole being within the DS itself. The process relates to a similar origin of heartless
and nobody, but a heartless nor a nobody is witnessed or created. As an outcome
perhaps those memories gave shape to the appearance of Xehanort.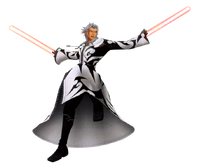 Last edited: