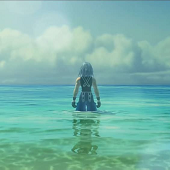 Joined

Nov 4, 2012
Messages

3,614
Awards

36
So, what the title asks: any characters in the series you like more now--or less--after playing KH3?

For me, of course some of the characters I already liked I like even more now (Sora, Even, Larxene, Marluxia, Isa), but there were other characters I never cared much about that I came to enjoy and look forward to seeing more of post-KH3 now. Like Ienzo, Demyx, and Luxord. Never cared about any of those three before now. Xemnas and Ansem SOD actually didn't get on my nerves. And I used to always sort of dislike Lea, but my opinion of the character changed after the scenes during/after the confrontation with Isa. He was funny in the Mysterious Tower scene when they were all gathered together before the KG. RAX crying together was so sad/sweet and all four at the clocktower was the best ending for any of the trios, imo.

My opinion didn't really shift in the negative direction for any of the characters, but I wish Roxas and Namine had got a little more attention. Young Xehanort was...a little different than I expected after 3D, not necessarily bad. And Dilan was just scenery. I hope Repliku finds a way to come back and be with Namine again. :( My opinion of the rest of the cast was about the same as it already was before KH3.