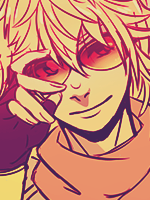 Joined

Mar 31, 2008
Messages

12,519
Awards

6
Age

31
Location
Roxas is 14/15. 14 when he is first created because Sora was 14, and then 15 when he finally returns back to Sora. Axel is only 24/25.

I'm not sure how that is pedo-range. He isn't trying to date Roxas or do anything illicit. He's literally only acted like an older brother and best friend to Roxas. There are plenty of people out there who have best friends 10 years older than them. It isn't uncommon, and that age difference becomes negligible when the younger person becomes legal, anyways.

It only becomes creepy when you make it creepy.
Everything you said is true, but from what I have been raised to believe, usually the 10+ year older friends aren't all that right haha. Besides, when you read the kind of fanfiction that I have, the original views of the Axel-Roxas friendship have been drastically warped and can never be unwarped. D: