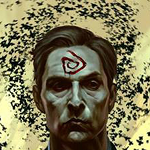 Joined

May 16, 2007
Messages

5,612
Awards

4
Location
What kind of small difference does Even has? He still looks the same to me. Is it the eyes maybe. hmm... :/
If it takes you that hard to try and find a difference, then there is none.
None of the three of them are different. I don't care if someone says, "Oh, well I think it kinda looks like Vexen's eyes may be a bit different" or whatever. If they were supposed to look different,, any real difference would be a lot more noticeable than that.
You could argue that Dilan looks different, but that's just plain stupid. The only "difference" is that he either has his dread locks pulled back in a ponytail, or he has them cut off. Either way, he's still the exact same.
But that brings us to a question: Why do they look the exact same? A few options here:
1. They were lazy. Not really supposed to look the same, they just wanted the faces to be recognizable and didn't feel like putting in the effort of slightly altering them.
2. Ansem the Wise was wrong about humanoid Nobodies. When their hearts are strong enough, they actually don't have any faint "visible changes." This of course would mean that we'd have to be looking into why Roxas and Xemnas
do
happen to look different. Considering that they're special Nobodies and that they have a connection to Terra/Ven, that's not all too unreasonable.
3. AtW
was
right, but the opposite is true here: The apprentices did not change in appearance as Nobodies for some reason.
Obviously, if it's #1, that's retarded. #2 makes the most sense for the story. But even then... could be #3. Why they wouldn't change in appearance... well. It
does
actually fall into the realm of a theory of mine, but I almost wouldn't want it to be true due to major retconning.