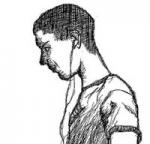 Joined

Apr 21, 2005
Messages

3,777
Awards

0
Age

32
Recent events. Events may or may not have happened in the order specified. Events may have side effects, consult your doctor before use.

-I was, until recently, in a university degree to become a primary school teacher. After failing the first term for the third year in a row, I decided to quit and come back to it later when I'm more motivated. Probably won't end up doing so, but hey, now I got more free time. Unfortunatly, since I no longer have vitally important three-hour lectures, I'm no longer keeping up on sketching practice.

-To quote a certain movie: "I love smoking. Even when I am dying of lung cancer, still I will smoke." Jet_Fire, when I get gangrene in my feet, metal in my eyes, and all the other horrible things on the packet warning labels, I'm charging you with two counts of murder - one for each of my lungs. Oh yeah. Kiddies, even though smoking makes you look cool, it's bad. Don't ever take it up. -coughs and wheezes-

-I moved from my country-bumpkin, hated hometown to the capital of my state, with my mate, his missus, and their newborn baby. So much for sleep. And damn, I hate that this place is so BIG. I can't walk everywhere anymore.

-Did I mention the baby? She's beautiful. I want one now. Any female, 14-30 year-old members, wishing to bear my children, please move to Brisbane immediatly.

-We had a computer. It got repossesed. So we bought a new one, along with a $2700 TV. That's like $4000 American. God, PS3 looks awesome in High-Def. Jealous? You should be. If it's any consolation, the computer sucks ass.

I'll keep you intranet-junkies posted. I know you want all the sordid details, right?