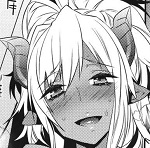 Joined

Apr 8, 2008
Messages

4,006
Awards

4
Location
You see, the only problem I see with Marluxia is that with most of the scenes that have them together in the same room, I never saw some strong connection. Is like they hold each other in silent respect and trust, yet I've never seen Larxene smile, or act playful (some of her

positive

qualities, I think *-*), talk to him in other ways than that of a business partner. I don't know if in

back doors

is different xD, yet outside didn't seem so sexual, to put it plainly. It didn't make me think like, "Hmm, they must be getting freaky somewhere" or make me see that they at least

can

. Especially with Marluxia's personality. He's so serious, collected, and has this overconfident, not much for petty things type of persona.

That's what attracts me to Axel more for her. I can actually imagine them heating it up somewhere due to the way they both are. He's a wild card in that respect, and I don't think is crazy to be aware that he would've acted if really interested. Whether Axel was playing hard to get or something else when Larxene was flirting with him, there's no way to know what he was thinking at those times, it didn't damper the chemistry that was giving off, for the first time in a

KH

game making feel

actual

tingles. Not innocent ones, actual undertones that made me raise eyebrows. Of course, if they did have a relationship, or something close to it, I know it won't be rainbows and fluffy rabbits and flowers. I see them more of a kind of dark, mature, love/hate pair, which would've been nice to see in my opinion, as

KH

lacks that completely and it's just fairy tale love. Larxel had potential.

What also caught my eye is that Larxene acts more freely around him. He was never a victim of her sadism, if so, was minimum, Axel went to tease her about her loss with Sora, almost beginning a banter if Vexen didn't interrupt (I see them snarky as well), they share the same kind of humor, concerning them teaming up to taunt Vexen (I found that cool xP), they can talk deeply enough to get close to topics like hearts and hints of Roxas, and Axel just seemed more casual. He was always casual, truthfully, it just seems that he takes it more easy when with her. Is almost like her personality doesn't bother him, or intimidates him (he even

warns

her not to be too rough with wittle Sora) or lets it get to his skin so hard like most would (Marluxia seems to possess this as well), and instead, he chooses to either ignore it or say something back. While they share some qualities together, they're also different at the same time, which comes to balance it. It makes me think that yeah, he probably didn't like her, but he didn't mind her company either, or couldn't handle her if going with choice of compatibility.

To be honest, I think Axene (I like this name better

) is one-sided canon. Axel isn't clear and it depends on what you want to see, yet Larxene either lusted for him or was attracted. Maybe liked him in personality, if you would like. The moment she kissed the card he threw at her made me question right off, since it was too telling and Axel wasn't really looking for her to take a action like that.

Now the thing with Demyx, is that it can be cute, yes, yet I can't help but feel sorry for him. Close to pity. Larxene is too strong a personality. Which is why I think she'll need to find someone who matches her or at least put her down two notches and not let her take control to the point that you're her loyal dog and her "Yes" man. Most of the other Organization members, including Axel and Marluxia in there, can be more fitting, even Xaldin I think, could overpower her (and I

still

see her fighting). In fact, him being her plaything and using him for her own satisfactions is more accurate.

As long as you choose Axel and Marluxia on a "if" factor, you can put the other guys you like to see her with too, if you want. I would've put the "Other" option, but this is between Axel and Marluxia that is centered, and not the rest, so I didn't want it to shift.

Actually,

that's

debatable ;P.

And that definitely doesn't stop rated M fics.
3 paragraphs. Ok. im all for axel. You cant argue with those statements.