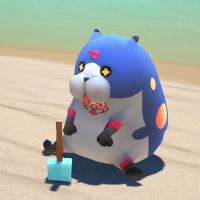 trapped in revamp hell
Staff member
Joined

Nov 1, 2009
Messages

17,758
Awards

36
It's hard to believe it's been 13 years since we first tried to set sail for other worlds with Sora, Riku and Kairi. Those of us who have stuck by all this time have been able to grow up with them, laugh with them, go on all these grand adventures with them. It feels like we know them like the back of our hands now, but of course, there are others who know them much better. I speak of course of the extraordinary cast behind those characters.
With those of us in the west so recently been able to experience Kingdom Hearts II Final Mix in the latest remaster, it seems like it'd be a great time to go back and check out the interview with the voice cast that was included within the KHIIFM Ultimania. Let's see what Miyu Irino, Risa Uchida and Mamoru Miyano felt about their characters, their experiences, and the series's future, back in March 2007.
Many thanks to Rasenth for their work translating this incredible interview. Be sure to visit their website and check out their lovely artwork, and follow them on social networks!
---
KINGDOM HEARTS II FM+ Ultimania
Sora & Riku & Kairi
Voice Actor Interview
Returns
Translations: Rasenth
Five years have passed since KHI was released. We will present to you the interview we had with the voice actors of Sora, Riku, and Kairi.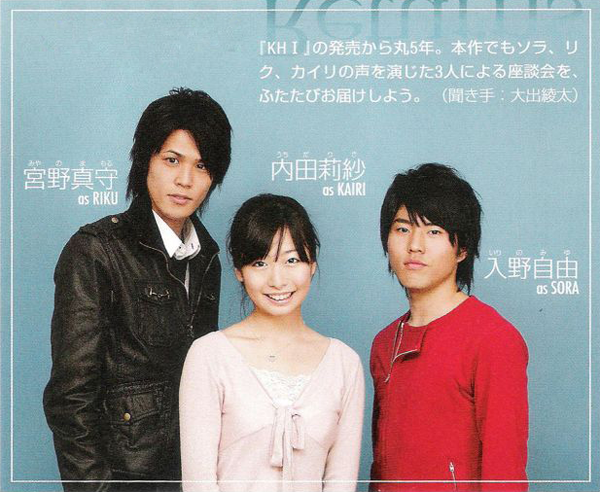 Mamoru Miyano
as RIKU
Risa Uchida
as KAIRI
Miyu Irino
as SORA
---

-- It has been 5 years since we have interviewed everybody.

Miyano: Actually, I thought we weren't going to have an interview because there wasn't one held for KHII Ultimania.

Irino: Yeah, I thought so, too.

Miyano: Before this book came out, we were talking about how there might've been an interview with the VA's of Roxas and his friends instead. (laugh)
-- This time, we'll have a proper discussion. (laugh) Moving on, when did the voice recording begin with the original version of KHII?

Irino: After we finished recording the narration for the KHCoM TV commercial, we heard from the staff that KHII was in development. That was maybe around the end of 2004 to the beginning of 2005.

Miyano: Miyu (Irino) started recording first.

-- So everyone recorded separately?

Miyano: That's right. I was overjoyed to hear that I was going to have a role in the sequel, but Riku appeared so late in the story that I started getting worried whether or not Riku was actually going to show up. (laugh) Eventually, we all got to record together when Riku appeared wearing his blindfold.

Irino: Now that I think about it, Mamo-chan (Miyano) caught a cold, right?

Uchida: I also caught the cold and was told my voice was raspy.

Miyano: [points at Irino] The only one who was in perfect condition.

Irino: I said something like, "I'm immune to colds." (laugh)

Uchida: After the recording, we went to the dango* shop, right? 1 

Irino: Yes. There was a dango shop close to the recording studio, so all three of us went to eat dango together. I was recording alone the entire time, so I didn't have the chance to meet everybody. I was really looking forward to that day. If we didn't have a recording together, there wouldn't have been many chances for us to meet. Even when we had the launch party for KHII, Mamo-chan couldn't meet up. (laugh)

Miyano: I had another job to do, so I couldn't go.

Irino: In the end, we got to hang out a little.

Uchida: Oh yeah, we saw each other at the train station!

Miyano: I said that I'll catch up with you two once work was over, but once I got back, the launch party was already done. I went to the station near where it was held and went to the celebration party afterwards together with Miyu. However, Risa (Uchida)...

Uchida: It was already late, so I had to go back. But I was so happy that I got to see you at the station. I yelled, "Riku!!" at you from far away. (laugh)

Miyano: I replied, "I'm so glad to see you!"

Irino: Speaking of which, during the launch party, we all got tickets to Tokyo Disneyland. All three of us were planning to go together with Roxas' voice actor Kouki Uchiyama, but because our group was so big, it was difficult to match up our schedules. We still haven't gone yet.

Uchida: We'll definitely go some time.

-- Can you still use the tickets?

Miyano: Oh, I might have it on me. (starts looking through wallet)

Irino: You still have it? (laugh) I put it on my fridge, but I don't know where it is now.

Miyano: (takes ticket out of wallet) Got it! It expires in May 2007. We only got a bit of time left! Let's go!

Irino: OK, I'll search for mine, and we should all decide on a day. (laugh)


--After KHI, how would you say your impressions of each other changed after meeting up again for the sequels such as KHII and KHRe:CoM?

Irino: [looking at Miyano] ... He's a weird one.

Miyano: What? You mean I became weirder?

Irino: Yeah, you become weirder and weirder every time I see you. (laugh)

Miyano: That's not true. I'm just acting like myself around you all.

Irino: I think he's a funny guy.

Miyano: Every time I see Miyu, he keeps growing so much.

Irino: No way, I haven't grown that much taller.
Miyano: ... but you grew facial hair! (laugh) I thought, "Dude, Miyu's got a beard!!" and I was so shocked.
Irino: I was still in middle school when KHI was in development.
Miyano: [with deep emotion] He's all grown up. (laugh)

Irino: Risa became so pretty.

Uchida: (embarrassed) Wha? That's not true.

Miyano: Miyu, was that supposed to be flirty? (laugh) Everybody must have been telling you, "You've grown up, Risa-chan," right?

Uchida: That's true.

Miyano: That was my first thought when we reunited, since a whole 5 years passed by after all. (suave voice) You blossomed from a girl to a woman.

Irino: Why the heck did you say that with such a nice voice!? (laugh)

-- Uchida, what did you think?

Uchida: I was glad to see everyone again.

Irino: (points at Miyano) Don't you think he became a weirdo, too?

Uchida: ... Yeah, I guess. (laugh)

Irino: Compared to 5 years ago, we can all talk to each other more easily now.

Miyano: Yah, that was the biggest difference.

Irino: We were able to really be open with each other by the time KHI launched.

Uchida: That's true!

Miyano: That was so much fun! We really bonded at that time.

Irino: After KHI was out, we all went to Tokyo Disneyland. We all let loose and had a great time.

Miyano: We had only an hour before the park closed, so we all ran around the park to see how many rides we could get on.

Uchida: Yeah, that was fun!

Miyano: We kept saying to the cast members, "I'm Riku!" "I'm Kairi!" (laugh)

Uchida: We talked to a lot of people. Oh, and then Miyano said to a flickering light, "Do you want to be consumed by the darkness!? You fool!!!"

Irino: Yeah, he really was weird back then, too. (laugh)

Uchida: Some time after that, I recalled that moment and I laughed all by myself. (laugh)

--- How was the reaction from your peers after KHII was released?

Irino: When KHI came out, most people who played just told me it was interesting. But when KHII was out, I often got shocked responses like, "You voiced in that!?"

Miyano: Yeah, me too, me too!

Irino: When I voiced the title of KHII in a commercial, people who heard it said things like, "Woah, you're in that game!?"

---It really hit me how many people played the game. There were also people who played because they liked Disney.

Miyano: Kingdom Hearts was such a well known game that there were people who would normally not know the anime I voiced in or didn't usually play games who knew about it.

Uchida: The high school I go to also has a middle-school attached. There was a middle-school girl who brought me her KHII case and asked me to sign it. I felt too awkward about signing on the cover, so I signed very small on the back.

Miyano: If you sign it that small, it's going to look like that you signed your own game so it won't get lost. (laugh)

Uchida: Afterwards, KH came up during class. I thought to myself, "Hey, I'm in that!" and right when I thought that, the teacher said, "Right Uchida?"

Irino: He suddenly asked you for your opinion!? I would be be surprised, too.

Miyano: My teacher was so proud that one of his students was in a game that they enjoyed.

-- Seems like the game was popular at school as well.

Uchida: Every time I walked down the hallway and somebody said, "Woah, it's that Kairi girl!" I would think to myself, "Yup, that's me!" and get a bit full of myself. (laugh) There were even times during my part time job at an ordinary shop where customers would ask me, "Did you voice Kairi?"

Irino/Miyano: WHAAAAT?

Uchida: My nametag said "Uchida", but I was so surprised when they would say, "I heard your voice and it sounded like Kairi." What if they started saying around town that Kairi was working at a cashier.

Irino: That shop would become pretty popular.

Miyano: I want to go. I want to see Kairi working at the register. (laugh)

Irino: Why not just make Riku a cashier, too?

Miyano: Actually, Riku worked as a cashier in the past. I worked part-time in a bookstore. KHI Ultimania came out at that time, so I asked the store owner if I could place it near the front since I was in the game, and they let me. (laugh)

-- KHII takes place only one year after KHI, but what were your impressions of the characters when you saw them?

Uchida: I actually didn't recognize Kairi. Her hair grew longer and she looked so mature.

Miyano: Riku's hair became way too long. I thought, "You can't possibly see well with those bangs! You should cut 'em." (laugh)

Irino: Riku was wandering in the world of darkness. His bangs would be the last thing he would be worried about. (laugh) I remember that Sora's clothes started off way too small for him in the beginning of KHII, but he managed to fight in those for awhile before he got new ones from the fairies.

Miyano: That was the moment when his growth really hit me.

Irino: Yeah. His face matured and, I can't really put it into words well, but he definitely started looking more like a hero. A whole year passed when he was sleeping in his capsule, after all.

Miyano: You really do grow the fastest when you sleep. (laugh)

-- Did you change the way you acted in any way since the characters grew up?

Irino: When I recorded for KHI, I was a 2nd year in middle school so my voice was very high pitched. KHII was only one year in the future, but three years already passed in real life so my voice dropped significantly. I thought that I had to adjust to that, so I used a higher pitched voice during the first recording for KHII. However, the staff told me not to go so high and just speak normally. They wanted Sora to not sound cute but strong. So I performed how I usually did without worrying about my voice.

-- So you performed the same way you did in KHI?

Irino: Yes. I pretty stayed true to Sora's naive and optimistic personality, but there were more times where Sora was worried and doubtful, like whenever he thought about Riku. I wondered if I was able to portray those different sides of Sora. This whole time, I always played him to be upbeat and peppy, so performing those scenes was very challenging but enjoyable.
Uchida: As I grew older, my voice lost its cute charm, but I tried my best to sound younger. (laugh) In KHII, Kairi fought alongside everybody else as well. And the first person to notice that Riku was in the form of Ansem was also Kairi. I hope that Kairi's compassion came across my peformance.

Miyano: Kairi also had her very own Keyblade.

Uchida: Yes. And when she came to Sora's rescue, she declared, "This time, I'll fight!" and jumped off the balcony.

Miyano: Those Heartless got a spanking!

Irino: "Spanking"? You make her sound unimpressive. (laugh)

-- By the way, Uchida, how did you feel about Sora and Riku when you performed?

Uchida: I had faint romantic feelings for Sora... well, actually, I can't really say I went that far but somewhere along those lines. I think Kairi is the closest to Sora and gets along with him the best, while for Riku, she feels like he's somebody she can rely on because he's older than her.2

-- Miyano, did you feel you changed the way you perfomed Riku after he grew older?

Miyano: So, just like Miyu, my voice dropped over the three years and I sounded like an old man. (laugh) But I thought it would be OK since Riku grew up too, but unlike Miyu, they told me that Riku's not that old sounding yet. (laugh) I was told the reason was that only one year had passed, but I really struggled to show that one year difference.

Irino: You had to listen to your KHI recordings while voice acting for KHRe:COM, right?

Miyano: Yes. KH:ReCOM was right after KHI so I had to sound just like how I was when I voiced back then, but if I let up just a little, I dropped back down to my normal voice. When that happened, the staff would tell me, "Your voice was like this," and made me listen to a line from KHI over and over and over again. I kept thinking, "Stoooooop!!! This is so embarrassing!!" (laugh) I really fought to match up with my old voice.

-- Since Riku had a main role in KHRe:COM, you had to voice act quite a bit for him.

Miyano: I played the GBA version and thought, "Riku's finally in the spotlight but there's no voice acting!! I really wanted to act out that scene!!!" I was so happy that this time, there were voices included. In KHCOM, I liked how Riku goes through emotional changes and the aspect of Riku Replica. I also enjoyed fighting as Riku.

Irino: And then you also got to control Riku during the last boss fight in KHII!

Miyano: Agh! But he was so weak. (laugh) He's pretty strong when teamed up with Sora, though.

Irino: He's strong when he does a link attack, but he's weak by himself.

Uchida: It's the power of friendship.

Miyano: Woah, that's right on the money! Just what I would expect from you! (laugh)

-- In KHRe:COM, there were scenes where Riku and Riku Replica confronted each other, but how did those scenes go for you?

Miyano: It was hard. I changed some basic aspects of Riku's personality for Riku Replica. The original Riku's fairly calm, I wanted to show how he's built up from his experiences struggling through a long journey. On the other hand, Riku Replica is hot-headed and is full of himself. (laugh) I made sure to show the change he grows through once he realizes he's a fake version of Riku. I made sure that even though they had the same voice, they were two separate characters.

-- Did you record Riku and Riku Replica separately when they were together in a scene?

Miyano: Yes. If I were to do them at the same time, I would get incredibly confused. (laugh) I would record Riku Replica first, and then Riku while listening to Riku Replica.

-- Speaking of counterparts, Sora also has Roxas as his Nobody, correct?

Irino: My first impression of Roxas was that he was a very sentimental character. My favorite scene with him was him looking at Sora, sleeping in his capsule, and saying, "Looks like my summer vacation... is over." Then the title of the game appears. I thought, "Oh, the game hasn't started yet?" and "Oh, Sora's going to come out now, I'm excited!", but on the other hand, I also thought, "Ah, this is the end for Roxas, I'm sad." Sora is incomplete without Roxas, but I personally really like Roxas.

-- Kairi also has Naminé as her Nobody.

Uchida: Nobodies are so tragic. I like the scenes at the end of KHII when Kairi and Naminé, as well as Sora and Roxas, become one again. I stated crying when I read the script.

Irino: That's a good scene.

Uchida: Right? It was a relief, but such a heartbreaking scene because Naminé had to disappear.

-- What did Riku think about Naminé and Roxas?

Miyano: Riku realized before anbody else that Roxas was Sora's Nobody. Even though he looked different, he felt Sora's presence.

Irino: In order to save Sora, Riku called upon the power of darkness to defeat Roxas and awaken him.

Miyano: It's always about Sora when it comes to Riku. (laugh) Riku probably just thought that Roxas just was somebody to put back where he belonged. Naminé's important to Riku because she was the one who made clear what Riku had to do.

-- In the previous interview, Uchida said she wanted the series to continue on to KH12.

Uchida: 12's not enough. More than that. (laugh)

Irino: OK, let's raise the bar to 20 this time. (laugh)

Miyano: I want to continue working in this project as long as possible. I wonder what story will unfold?

-- You haven't heard anything about the sequel?

Irino: I heard nothing. Even when KHI was out, I played it, saw the secret movie, and thought, "Who's that? Who's that!?" When I found out the blindfolded one was Riku, I thought, "Is Sora not going to be in the sequel?"

Miyano: Nomura told us that he was Riku, so I thought KHII was going to be Riku's story, but I was completely wrong.

Irino: It turned out to be about finding Riku, in the end. I'm glad that Sora didn't give up his status as the main character. (laugh)

Miyano: But there wasn't any sign of any of us in KHII's secret movie.

Irino: Yeah, everything's new, so everybody's on their toes. We all think that we might not get a role in the next game. (laugh)

-- In the new secret movie for KHIIFM, a familiar character gets frozen in ice.
Miyano: (raises hand) It must be Riku this time!! He'll get frozen and sleep for a year!

Irino: You named yourself way too fast!

-- This character actually looks like Roxas.

Irino: Uh oh, I'm starting to feel anxious again... (laugh) So this story won't be about Sora?

Miyano: Maybe it'll be about Roxas? The frozen person must be a character from the past, and your character (points at Irino) must be his descendant. It's gotta be. Roxas is Sora's Nobody, so Sora must have descended from an ancestor that looks like Roxas.

Irino: Who knows? The KH series is full of mysteries. Remember the letter we got from the King at the end of KHII?

Miyano: Are all three of us going on an adventure?

Uchida: I want to!

Miyano: But KH3 might be about that character who looks like Roxas, so maybe our adventure will start in KH4.

Irino: I want a story where Kairi's the main character.

Miyano: OK, so that'll be KH5. (laugh) Kairi will fight in different costumes! Oh wait, that might be bad. That was already a gimmick in a different game...

Irino: Costumes!? … Oh, I get it.

Miyano: That game's characters appeared in KHII as fairies. (laugh)3
-- If there was going to be a game where Kairi's the main character, what would you do, Uchida?

Uchida: I would be happy, but kind of anxious. I enjoy the time I spend as Kairi, and I would love a game about her. However, just thinking about it being sold gets me nervous, so I'm fine if it never gets released to the public. (laugh)

Irino: Then the three of us should borrow a studio and make it an indies game. (laugh)

-- What does the KH series mean to all of you?
Miyano: I joined the KHI team around the time when I began my career in voice-acting, so I had little idea in what I was doing. I learned how to perform only using my voice, how to nurture my imagination, and just the essentials I needed to perform well.

Irino: I actually found out about KHI through a game magazine. I already liked the Final Fantasy series, so when I saw it in the magazine, I thought, "I'll definitely buy this!" Some time passed, and I got a voice audition for KHI and thought, "Huh? I feel like I heard about this game before..." I racked my head for a bit and I recalled that I saw it in a magazine awhile ago. I shouldn't forget important things like that. (laugh)

-- So you discovered KH through a magazine?

Irino: Yes. I didn't think I passed when I was doing the audition, so I still think that it was a miracle that I got in. When I first started recording, I was so nervous and kept second-guessing myself. When I listened to my KHI lines again, I noticed that I sounded awkward and kept slurring my words, but I think it actually was a good thing. If I was told to voice KHI Sora again, I can definitely speak more clearly now, but I don't think I can replicate my raw energy.

Miyano: We really were just figuring it out as we went, right, everybody?

Irino: That's right. I love the KH series because I can really see how I grew with it. If somebody were to ask me what I would like to voice, I love KH so much that I would just say that I want to voice in another KH game. I wouldn't mind voicing for KH forever if I could.

Miyano: I also feel like I grew up with Riku while I studied and polished his character. KH means so much to me because my name and existence became well-known to so many people thanks to it. I am so thankful to be involved in a work that I love and also be loved by my fans through the game.

Uchida: I, too, feel the same way. KHI was my second job, so there were many things I wasn't used to and I always kept thinking about my mistakes. There are still times when I doubt whether or not I'm a good fit for Kairi, but after listening to both of your speeches, I became grateful that I got the role. (laugh) I don't only just love Kairi, but just everything about KH and the voice actors for all the characters, so I am deeply grateful that I had a part in KH.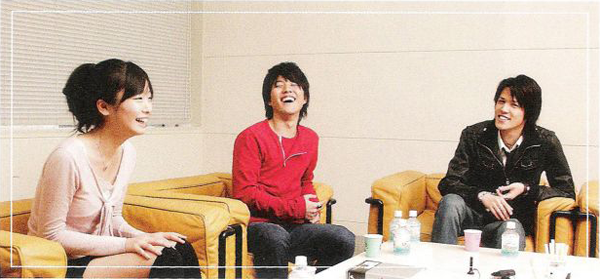 -- And finally, please give us a word for the fans who played KHIIFM+.

Irino: I would like you all to see the new cutscenes added in KHIIFM+. Many mysteries become clearer after you watch them. I'm really curious on what's going to happen next. (laugh) I look forward to the secret movie. Everybody, make sure to finish the game so you get to see it!

Uchida: I think it goes without being said, but this game is truly wonderful, so please enjoy it!

Miyano: All I would like to say is that you get to hear a lot of different "Riku voices" thanks to KHRe:COM. (laugh). I assure you that this game will not disappoint, so please enjoy, everybody! The series will keep chugging along, so we w ould love your continued support!

-- Let's continue our interviews up till KH20.

Irino, Miyano, Uchida: We look forward to it! (laugh)

(March 6th, 2007. Took place at Square Enix.)
---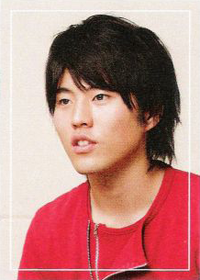 Sora CV
Miyu Irino
Profile
Born in February 19th, 1988 and is from Tokyo. Belongs to the Junction Agency. He works as a voice actor as well as a stage actor. His main voice-acting roles were Sena Kobayakawa from Eyeshield 21, Syaoran from Tsubasa Chronicles, and Haku from Spirited Away.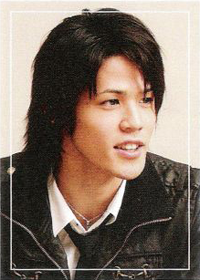 Riku CV
Mamoru Miyano
Profile
Born in June 8th, 1983 and is from the Saitama prefecture. Belongs to the Himawari Troupe. He is currently performing in a stage play named SMILY SPIKY. His main voice acting roles have been Light Yagami from Death Note, Lu Xun from Kōtetsu Sangokushi, and Tamaki Suou from Ouran High School Host Club.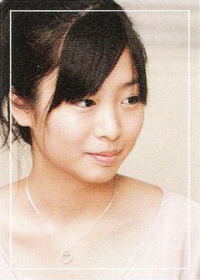 Kairi CV
Risa Uchida
Profile
Born in February 12th, 1989 and is from Tokyo. Belongs to the Moon, The Child Agency. She specializes in acting in movies, TV programs, and commercials, and also works with a wide variety of other media such as magazines. Her main acting roles were in the Four Season Troupe's musical Southern Cross and Young Nala in the Lion King in Broadway.
---
[1] dango: sweet Japanese rice dumplings that are usually shaped into round balls and are on skewers
[2] Uchida is trying to say that Kairi's close to Sora like two friends who share the same interests, while Riku's like an older brother. While Kairi's good friends with both, she doesn't actually freely play around with Riku the way she does with Sora. 
[3] Referring to Yuna, Paine, and Rikku from Final Fantasy X-2