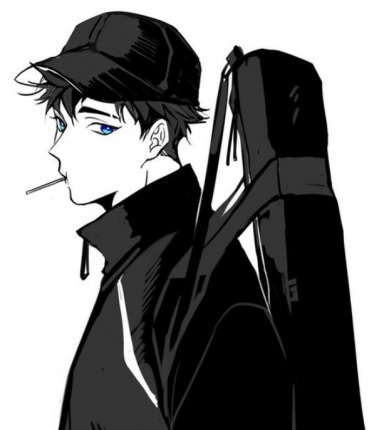 Joined

May 5, 2006
Messages

1,279
Awards

4
Location
BLEACH: A New Reign. A New Threat.​
*Clack* *Clack* *Clack*, the sound of Genji's sandals making contact with the hall floor echoed throughout. It was still early and the bright morning sunlight beamed through into the hall from the windows. Genji gazed on at the warm outside area, breathing in deeply as he continued his slow stroll through the corridors of the 1st Division. He wanted to speak with a certain important someone, but was in no hurry.

Already finishing up his early morning duties and eating his breakfast, he decided on a nice walk to clear his mind. The days of late have been full of a peaceful calm that seemed to last forever, yet why then did Genji feel uneasy? A sea of unsettled worry had been washing itself over Genji's mind again and again. But why? Even he wasn't sure. He just knew something wasn't quite right. Now if only he could put his finger on it...

"Hopefully he has an idea as to what this all means...", he mumbled to himself, still walking. His hands in his pockets with a slight shuffle to his walk, it was apparent that Genji was dragging today. The reality was that he was just savoring the calm he felt at this moment. The beautiful sunshine, the cooling spring breeze, the singing of the birds. Something about him knew it couldn't last forever. Genji knows all to well how valuable life is, and is always the one to point out the natural beauty that many overlook everyday.

Regardless, Genji continued his walk. Shrugging off his anxiety that was ever present; determined to not let it bring him down and ruin his day. Turning around a corner, he was almost there. Striding past fellow shinigami as he followed the hallways. He gave a smile and a wave, and then continued on with his movement. He was always one to put a face on to not show his discomfort to others. Especially the lesser ranked members. No need to make everyone else worry about something that couldn't be.

Genji stopped suddenly. He was in front of a large door with a symbol painted on the entirety of the doorway. Two people emerged from the entrance, two normal looking men, but Genji focused on the taller, strong looking young man to the left. The man was in the middle of his conversation with the other.
"Okay, I'm glad you understand. Please go and alert the other lieutenants and their squads."
"Yes sir!"
,
exclaimed the shorter man. And with that he vanished.

The man now lifting his head, caught eye contact with Genji in a startling manner. Genji spoke first.

"Good afternoon Head Captain."

The Head Captain responded quickly,
"Genji! I didn't notice you there at first"
, he spoke chuckling slightly.
"In fact, I fear I may need to talk to you..."
Genji quickly followed with, "I figured you would say that. I was looking for you, to tell you about this uneasy feeling I've been having recently. Though I think you may already have an answer as to why..." The Head Captain looked at the ground for a moment and then looked back up at Genji.
"Yes, I do. See, I just found out something truly frightening."
Genji looked at him with an intensity in his eyes. "What is it Captain?"
The two young men stood in silence for what seemed like minutes, but were mere seconds, as the suspense was too unbearable for Genji to take.
"An evil power has been awakened. Something old. Something we all had long forgotten about."
The Head Captain's eyes strayed for a second, as he licked his lips in exasperation.
"Genji, The Olvidado... They have been awakened."
Genji stood in disbelief with his mouth agape. Quickly thinking back to his thoughts earlier, the peace he had once felt such a short amount of time ago, was now compromised.
"You better come in here so we can speak more. I just called for a Captain's meeting. The others should be here soon. The sooner I can get you all in the know about what's going on, the faster we can figure out how to deal with this."
Genji quickly nodded in agreement, still feeling the shock from this massive news. The Head Captain gestured towards the meeting room he had just emerged from, and walked inside. Genji walked to the doorway, following his commander. He paused for a moment at the doorframe. Now very much aware the danger he could feel they were all in. He gulped hard in his throat and then continued into the room with the Head Captain. The door closing behind them.