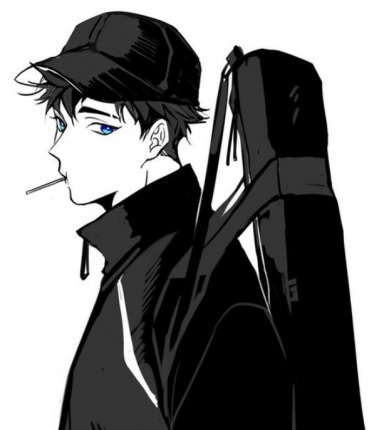 Joined

May 5, 2006
Messages

1,279
Awards

4
Location
*YAAAAAAAAAAWN!*, Genji groaned loudly as he awoke. Laying in bed, he peers around the room slowly. The sun pouring in through the window blinding him, as his eyes had yet to adjusted. Blinking a few times and smacking his lips, he stretches widely, from feeling still groggy from his sleep.

Sitting up now, he takes a breath, "Well, I better get up and get dressed." Standing, he stumbles his way over to his wardrobe, removing his shinigami robes. Moments later, he is finished putting on his clothes and tying his sandals. "Oops." Genji murmured to himself, almost fogetting the most important thing. He reaches for a white jacket out of the closet, the coat naming him as the Captain of Squad 7. He puts it around himself, and heads to the door, sliding it open.

He steps out onto the wooden deck outside. Walking out to the ledge, he peers over to see several members hustling around in the courtyard below. Dong their daily duties and goofing around as usual. He looks up, staring into the sky. It's a beautiful day out. Bright blues coating the sky above, with little puffs of cloud speckled here and there. Birds are soaring high above. Chirping and singing songs, with the sun radiating above them. "It's just a gorgeous day out", Genji spoke to himself as he fumbled in his robes. "Ah ha!", he exlcaimed, removing a pack of cigarettes from his robing. Striking on his lighter, a spark bursted into a small bright flame. He lit the cigarette now in his mouth. Inhaling slowly, he pulled it away from his mouth and exhaled a small plume of smoke. "Ahhhhh", in a satisfactory sigh.

Now merely standing and smoking his ever burning cigarette, he thought to himself, (I wonder if anything's going on today...). He took another hit from his tobacco product. "I think I'll just hang around until I'm alerted otherwise." And so he continued to relax by the deck balcony, soaking up the warmth from the sun. Content.