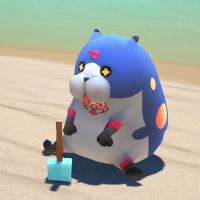 trapped in revamp hell
Staff member
Joined

Nov 1, 2009
Messages

17,707
Awards

36
KINGDOM HEARTS Dark Road updated with Chapter 3 - The Purpose of the Journey, with quests up to No.70.
Watch cutscenes from the English version as well as Japanese-translated scenes by goldpanner!
ENGLISH
Japanese-Translated
(Xehanort's monologues as he flashes back to leaving Destiny Islands, as he traverses through the Dark Corridor. He slowly makes his way through, struggling against the darkness.)

I took the first step of my journey──

As I made my way along that path, the darkness spoke to me.

Well, I don't think it used concrete words exactly.

Rather, it stirred emotions deep within my heart.

Those emotions solidified inside me, and words flowed into the back of my mind.

That was the darkness in someone's heart. But whose emotions are these?

Hatred, jealousy and suspicion like I'd never experienced myself──

I didn't know it at the time, but these were the emotions of people I had yet to meet.

Among them were even feelings directed at me.

Would I be able to handle it?

Being the focus of someone's darkness? Someone's heart──

That was the moment something began to grow inside my heart.

Corridors of darkness──

Those who push on through them find their hearts tainted by darkness in the end.

I learned that not long after.

At the very least, one thing was certain. Darkness or not, I still had my emotions. My heart could still feel.

But there is a terror more alien, more fathomless than even the darkness.

It would still be some time before I came to know "nothingness."

(Back in present day. Xehanort and his group are still in Wonderland.)

Vor: Sooo, when are you going to tell me~?

Eraqus: Tell you what?

Vor: What you two were going to investigate together.

You guys are up to no good, aren't you? Let me in on it! 

(She flails against him, but to no avail.)

Eraqus: Um… It's not like, a fun thing…

Xehanort: It's just that only the two of us needed to take the risk.

Eraqus: The truth is…

(Suddenly, the Tweedles show up.)

Everyone: !!

Xehanort: Who are you?

Twins: Where are your manners?

Eraqus: Oh, uh, sorry. I'm Eraqus.

Xehanort: Xehanort.

Vor: I'm Vor.

Twins: How do you do and shake hands.

Eraqus: Tweedle Dum and Tweedle Dee?

Twins: How do you do and shake hands.

Xehanort: Let's get going.

Tweedle Dum: Why?

Xehanort: Sorry, but we're in a hurry.

Twins: Why?

Eraqus: There's something we need to check out.

(As they turn to leave, the twins start whispering to each other.)

Tweedle Dum: Ohhhh, they're curious! Tsk! Tsk! Tsk!

Tweedle Dee: The oysters were curious too, weren't they?

Tweedle Dum: Aye, and you remember what happened to them…

Twins: Poor things!

Eraqus: What happened to the oysters?

Xehanort: Come on, Eraqus.

Tweedle Dee: Oh, you wouldn't be interested.

Eraqus: Try me.

Tweedle Dum: Oh, no. You're in much too much of a hurry!

Eraqus: We could spare a little time.

Twins: You could? Well…

Xehanort: What? No, Eraqus.

Twins: "The Walrus and the Carpenter"!

(Some time later…)

Vor: What was that all about?

Eraqus: I guess the moral is, "sometimes curiosity can invite danger".

Vor: What a sad story.

Eraqus: It's too bad we didn't get to hear what happened to "Father William".

Vor: No thanks, I think I've heard enough… There's something weird about this place.

Eraqus: Yeah, no kidding.

Xehanort: A warning to the curious… Maybe it was directed at you, Eraqus.

Eraqus: No way! If any of us are "curious", it's definitely you.

Xehanort: Me? You're the one who was actually interested in that fable.

Eraqus: But YOU'RE the one who was so burningly curious, you even left your old world.

Vor: Alright, you're both curious. How's that?

Eraqus: And is that a problem? You know, curiosity can help you overcome fear. It gives you the courage to dive into the unknown even if you don't know what's going to happen.

Xehanort: So long as you don't dive right into a pool of darkness.
(They continue along.)

Vor: So? Is your little scheme about something that piqued your curiosity?

Eraqus: I thought you forgot.

Vor: Nope.

Eraqus: Hmm, well, you see…

(Just as Eraqus starts to explain, he's interrupted by a loud voice shouting from close by.)

???: Oh, please! Be careful!

Vor: What now?

???: No, no! Not jam!

Xehanort: They're over there.

(They run off in the voice's direction to find the White Rabbit at a tea party hosted by the Mad Hatter and March Hare. On the table are the remains of his pocketwatch.)

White Rabbit: Oh, my watch…

Mad Hatter: It was?

White Rabbit: And it was an unbirthday present too.

Mad Hatter & March Hare: Well, in that case…

A very merry unbirthday to you!

(The White Rabbit runs away with the two hot on his heels. The gang arrives just as he makes his escape.)

Mad Hatter: No room, no room, no room!

March Hare: We're full, we're full, the seats are all taken!

Mad Hatter: Oh what a day. And on my very own unbirthday party too.

March Hare: It's very rude to barge in without an invitation.

Mad Hatter: Yes, very rude, oh how very rude they are.

(The wielders feel bad and begin to make their leave, but the two zany partygoers call them back.)

Mad Hatter: Oh, but you must stay for a cup of tea. Come, take a seat.

(They turn back to see Hatter holding a teapot.)

Mad Hatter: Tea?

March Hare: Sugar?

Mad Hatter: Oh, how could I forget? We can't have tea without sugar.

(He flips the teapot upside down and sugar comes pouring out.)

Mad Hatter: Oh dear, we're all out. We can't have tea like this.

March Hare: Well then, you'll just have to get us some more.

Mad Hatter: Good idea. Two cups now, two cups will do.

Eraqus: What is this absurdity?

Mad Hatter: Hey, it's not absurdi-tea. It's just black tea.

March Hare: The most just black tea!

Xehanort: These guys are worse than the Tweedles.

Eraqus: Much, much worse.

Vor: This is probably just a waste of time.

Mad Hatter: Excuse you! We just finished wasting time! Wait, no, it was a watch we wasted.

March Hare: Wake up, watch!

Mad Hatter: A very merry unbirthday to you!

March Hare: A very merry unbirthday to you!

Xehanort: Let's get out of here.
(They leave the Tea Party Garden and head back into the forest.)

Vor: Um, should we really leave those two back there? They were saying some crazy stuff, just like the Queen of Hearts.

Xehanort: No, not like the queen. The people here may be extremely chaotic, but she's the one upholding the order.

Vor: She is?

Xehanort: She's the only thing anyone here fears. That fear is what stands for order in this world.

Eraqus: Fear is order? Now who's talking crazy?

Xehanort: These people are chaotic and lack restraint, but fear of the queen is something they all share. That forms the all-important order that maintains this world.

Vor: So fear maintains order…

But they didn't look like they were being controlled to me. They looked free.

Eraqus: Because they're not like the queen. Their fear doesn't manifest as darkness.

Vor: So, unlike the queen, the people don't have darkness "in" their hearts.

Xehanort: Oh.

Vor: Well that answers that. You two were going to sneak off and investigate the Queen of Hearts!

Why were you keeping it from me? Oh, wait! I see!

This mission is supposed to be about finding clues about the missing upperclassmen, but you guys found yourselves more interested in the presence of the darkness.

You were going to let me wander off somewhere and investigate by yourselves, was that it??

You big meanies! I can't believe you! I'm telling the Master!

Eraqus: No no no no, it was more like…

A shortcut! We thought it would be a shortcut to finding the upperclassmen…

Xehanort: That's right. We probably aren't going to find anything about the upperclassmen in this world. I realized that after seeing the queen's reaction. It seems like there haven't been any other intruders besides us.

I don't know exactly how it relates to the disappearance of the upperclassmen yet, but I think the presence of the darkness is the key. It has to be something on that level, for all seven of them to disappear, and all at the same time.

If we follow the darkness, maybe we'll arrive at the truth.

Vor: But why do you have to keep it to yourselves? Come on, let me in on it.

Xehanort: Well…

Was the darkness I sensed in the queen something born from her own heart? Or did a being of darkness from another origin hide itself inside her…

And, is she even aware of it? There's too much we don't know yet.

Eraqus: If it was born elsewhere, and if she doesn't know, then there's a possibility that darkness could hide itself in the hearts of anyone investigating too. That's why I think it'd be best to keep our numbers as small as possible──

Vor: I know! Let's go hit the Queen of Hearts head on! Off we go!

Xehanort: But we don't know the way.

Vor: We're lost?!

Eraqus: We're lost?!

Vor: Taking down Heartless along the way must have had us going in circles…

(A while later…)

Xehanort: Looks like we won't be able to leave this forest so easily. We can't even follow someone like we did last time.

???: Are you lost?

(Cheshire Cat appears.)

Eraqus: The cat! Perfect timing.

We need to find the Queen. Please tell us the way!

Cheshire Cat: Well, that's easy enough. All the ways around here are her ways.

(He disappears.)

Eraqus: Hey, wait, that's not what I meant! Which path should we take?

(He returns.)

Cheshire Cat: Which path? This one works, that one too. But if you ask me, I'd take a shortcut.

(A shortcut to the hedge maze opens.)
(The gang make their way through the maze until they reach the Queen's court. As they enter, they pass a Card Soldier being led away.)

Queen of Hearts: Hm? Aren't you…

(They approach the stand.)

Queen of Hearts: I see you've come to your senses and returned for execution. I've just sentenced the fool who tainted my roses. We can execute you together.

(Vor looks back at the convicted soldier.)

Vor: That guy we just saw… Is she really going to…?

Xehanort: Unfortunately, we didn't come back for sentencing. We came to talk.

Queen of Hearts: Humph. I have nothing to say to you.

Eraqus: We're not here to defy your rules, or challenge your order in this world. We'd just like you to explain something to us.

Queen of Hearts: What is it?

Xehanort: You said before──

Queen of Hearts: Not you! I'm talking to Ponytail here!

Eraqus: You said before that you decide everything for everyone in this land. Is that really true? 

Queen of Hearts: What do you mean?

Eraqus: We were wondering, is your heart really yours…?

Queen of Hearts: My heart? Of course it is.

Xehanort: Does your heart command you to be so arrogant? You're not being controlled by some dark being hiding inside, are you?

Queen of Hearts: Me, controlled by darkness!? I am and always will be the one doing the controlling here!

Eraqus: No. Your heart can't possibly be filled entirely of darkness. I believe that all hearts have at least some shred of light.

Queen of Hearts: Darkness, light, whatever it is, it's mine. Everything belongs to me.

Eraqus: Everything, huh…

Xehanort: So the darkness was born from the greed in her heart?

Queen of Hearts: Greed? I'm the Queen, I already own everything! Why would I ever feel something so pathetic?

Eraqus: Well then, what do you feel?

Queen of Hearts: I feel rage.

Brats like you make me angry. Fools make me angry. That's why everyone should just do as I say!

When people try to use their own judgment, they just end up making me angry!

Xehanort (thinking): (This doesn't seem like darkness that's born from greed. The nature of her darkness lies in wrath - her "rage".)

(Flashback to one of Master Odin's lessons.)

Hermod: So a person's darkness reflects their natural disposition?

Master Odin: In ancient times, darkness hid in people, and puppeteered their emotions. They used such people as vessels, and spread silently through the world as though contagious.

Bragi: Like a disease.

Master Odin: Correct. But as the ages went by, something else began to happen. Not only was the darkness itself intentionally controlling people, people also began to birth darkness from their own hearts.

Vor: …You mean, the Heartless?

Master Odin: Yes. That is what we call the embodiment of darkness in people's hearts.

After many years, darkness and hearts became inextricably linked, so much so that people can now birth their very own darkness from their hearts.

Eraqus: Was it really necessary to give it another name? Why even call it the "Heartless"?

Darkness is darkness.

Urd: What triggers darkness to be born in people's hearts?

Master Odin: They are born from our negative emotions─ Greed, grief, wrath, envy… there are many.

These emotions sleep deep inside the heart, and are usually something one can control. But when they run rampant, they can manifest as darkness.

Perhaps it's accurate to say that over long years, the darkness has reshaped us…

(Back to present. Powerful darkness emerges from behind the queen, and then dissipates.)

Xehanort: It… smiled?

Vor: Huh?

Queen of Hearts: No more talk! Now, off with their heads!

(The darkness returns and grows even large, before leaping away and landing right beside them. The shadows make way and a powerful Heartless appears. The wielders prepare for battle.)

Eraqus: Is this the darkness born from the queen's heart?

Vor: Is this her will??

Xehanort: I don't know…

(The queen makes her leave.)

Queen of Hearts: It's just as I told you. My heart belongs to me!!

Vor: The Heartless… is it the same one as last time?

Eraqus: If it is, then this should be a piece of cake.

Xehanort: It looks different. Stay sharp!

(They defeat the Heartless.)

Vor: So, did we even learn anything in the end?

Eraqus: I think we managed to get the root of the matter…

What about you, Xehanort? Do you still think that investigating the darkness will help us figure out what happened?

Xehanort: Yeah.

We should share this with the others. Let's head back and sort out what we know.

(They leave Wonderland and return to Scala to meet up with the others.)

Hermod: I see, that makes sense.

Bragi: So basically, we should pursue the darkness.

Hermod: But you guys already defeated it, didn't you?

Xehanort: Darkness isn't limited to just one entity. A single ray of light can cast countless shadows. And as light's guardians, we may be able to do the same.

The more we venture out in our travels, the more darkness may be uncovered.

Vor: Wait. Are you saying it was our fault the darkness showed up?

Xehanort: Well, it's a possibility.

Bragi: Then it goes without saying that the upperclassmen also clashed with the darkness.

Xehanort: Yes, I am quite sure of it.

Hermod: So we've got nothing on the whereabouts of the upperclassmen, but if we pursue the darkness, we might be able to find some clues.

Urd: Hmm. I get the logic behind darkness being wherever light is. After all, light is necessary because darkness exists. It's why we became Keyblade wielders, and spend each day devoted to our studies.

But light leading to darkness is a far cry from darkness leading to light.

Vor: Plus, darkness can hide in people, right? It's not going to be easy to find.

I wish it would just pop out like the Heartless do, so we could tell!

Bragi: It's just like the Master told us. When the negative emotions deep inside someone's heart become uncontrollable, they manifest as darkness.

So was the Queen of Heart's darkness born from her own heart, or was it merely hidden there without her knowledge…

Xehanort: …Actually, I realized it doesn't matter much in the end.

Hermod: You don't think it makes a difference whether the cause is internal or external?

Xehanort: No, I don't. In my eyes, queen's darkness stems from her own ego. On the other hand, I can see how she could have accepted it into her heart unwittingly.

Eraqus: She was all, "Everything is mine!" and whatnot.

Xehanort: Exactly. It doesn't matter where the darkness originated. The problem is something else.

The queen's darkness, her rage, is what maintains order in that world. We can't operate under the belief that light is right and darkness is wrong. That's our problem.

Eraqus: Hey wait, what are you saying?

Darkness is evil. That's the way it's been for eons.

Who are we? We're light's guardians, the ones who beat back the darkness. Don't lose sight of that.

Xehanort: Yeah, I know. I'm not. But if the upperclassmen faced the darkness, and that darkness was the world's order, then it's possible they chose to side with it instead…

Eraqus: Never.

Hermod: Calm down Eraqus.

Our goal is to find the missing upperclassmen. That is what the Master entrusted to us. The mission isn't changing.

But if we do find darkness during our search, then it is inevitable that we must come into contact with it for clues.

Are we all on the same page?

(Everyone nods.)
[Flashback: One week ago]

(A kid looks out across the water, deep in thought.)

???: Hey, Baldr. Didn't expect to see you here.

Baldr: Oh, hey Eraqus.

(Eraqus walks to his side.)

Eraqus: Something on your mind? I saw you zoning out, looking at the sea.

Baldr: Yeah. My big sister left on her Mark of Mastery journey. I've got a bad feeling about it.

Eraqus: Oh, so the upperclassmen are already taking the Mark of Mastery! But why the bad feeling? I'm pretty jealous, myself. Wish I could go a trip to the outside worlds.

Baldr: My sister said something before she left. She said whoever came back would pass the exam.

Eraqus: That's a weird way to put it. Was she not expecting to come back?

Baldr: Right? It's like this journey isn't just about broadening their horizons, but that the journey itself is the exam…

Not even that, it sounds more like a mission… It's nothing like the Mark of Mastery we were taught about.

It's got me all nervous.

Eraqus: I wonder what's going on… We could ask Master Odin, but he probably wouldn't tell us…

Baldr: I'm worried. What if my sister is taken by the darkness? I've had this bad feeling ever since she left…

Eraqus: The darkness?

Baldr: Oh, I'm sorry. I know you lost your grandfather in a battle with the darkness…

Eraqus: No no, it's alright. I don't know all the details anyway. It's just, whenever I hear that darkness is near, I get anxious… Maybe this hatred for darkness runs in my blood.

Baldr: Sorry, I didn't mean to bring up such a painful subject…

Eraqus: Don't apologize, it's totally fine!

Your big sister will be home safe before you know it.

Baldr: Yeah.
Last edited: