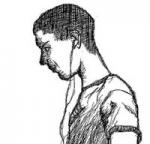 Joined

Apr 21, 2005
Messages

3,777
Age

34
Attention: This Fanfiction contains extensive gore and graphic depictions of death and dismemberment, and is not suitable for a younger demographic. Should this in any way offend or upset you, please do not read the fiction. Should you choose to continue, you are taking on responsibility for any emotions or actions that result from your reading of it. You have been warned.
Deeper into Darkness
Chapter One: The Circus is in Town
​
Officer Anna Carter surveyed the Big-Top from a distance, scowling as she loaded the small 9-millimeter handgun she carried and deposited it into the holster that hung at her waist. She didn't bother to flick the safety off...she'd never used a gun in her entire career, and she didn't plan to start now. Besides, it had happened almost five hours ago. The criminal was sure to be gone by now.

"Carter! You ready?" Her partner, Officer Fredrick Foster inquired in his booming, intimidating voice. Carter had been partnered with Foster for almost three years now, and she still had mixed feelings about him...the man was somewhat of a fatherly figure, tall, almost invincible, and undeniably stubborn. They'd dated at one stage, but the big man made Carter feel uncomfortable...almost as if she were dating her father! She'd cut the relationship off, and for a time, there had been an amount of tension between them, but eventually they grew to appreciate one another as friends rather then lovers, and their bond had become even stronger. Without Foster, Carter doubted she'd have made it this far in the police force.

Nodding her approval, she set off at a steady stride towards the large tent, Foster following close behind. As they neared it, she spotted several dark red patches on the brightly-colored fabric, arousing her suspicions about what they would find inside.

The sight that met Carter was far worse then she had envisioned it. In the centre of the 'ring', where the performers would have stood, the sandy ground was covered in drying brown stains, all centering around a body placed in the exact centre...the ringmaster, by his attire, or what was left of it. His chest had been slashed open in an X shape, and his flesh peeled back to reveal his ribs.

Scattered around the stands, several painfully contorted bodies lay strewn; unattended, left where they had fallen. Carter reminded herself that this was a crime scene, and that they had to be left there until forensics had finished with them.

Something wet splashed against the base of her neck, and she spun around, looking for the source of it. Behind her, Foster was observing the decapitated body of a clown from a distance.

A second drop fell onto her forehead, and she wiped it away, almost screaming when her hand came away dripping red. It was blood. Panicked, Carter looked directly upwards to discover a man in a lycra outfit had been hung by the neck with the severed tightrope, the steel cable cutting into his neck until he bled. Underneath him, another body lay in the safety net provided for the acrobats, this one wearing the same outfit, but female. Her back was slashed in a criss-cross manner, as if she'd been dropped against the net with such force it had cut into her.

Unable to stand it anymore, Carter ran from the tent, pausing at the entrance to release the contents of her stomach onto the ground in a spectacular display, before dashing for the squad car. What could have done this, killed this many people, so brutally?
Carter had no idea that she was about to find out firsthand.
​
Chapter Two: Fool me twice...​
Foster quickly dashed after Carter, his heart racing. He'd seen the things in there, and he could understand why Carter couldn't deal with it...he himself was having trouble maintaining his composure at the senseless disregard for human life shown by whoever...or whatever...had done the deed.
Ahead of him, to his surprise, Carter, who had previously been leaning against the squad car, was now dashing off into the light woods on the opposite side of the road. Shouting after her, he paused for a second to catch his breath, then followed suit.
"Carter...Carter..."
The voice echoed through the trees behind her, a mocking, laughing voice, the same one that had chased her from the car. She'd seen it coming, but hadn't believed her eyes. But it had tried to grab her, so she'd run. Carter didn't know where she was running to; all she cared about was escaping the man...if that was what he was...that was pursuing her. Breathless, she pushed herself harder, her lungs burning for air, as the voice drifted through the air behind her again.
"Carter! Come back!"
Officer Foster slowed as ahead of him, Carter disappeared from view, leaving him alone in the woods, lost and with no chance of catching up to her. He, you see, being a big man, Foster was somewhat lacking in the speed department, and despite his physical fitness, he couldn't beat Carter in a footrace on the best of days, let alone now.
Wheezing, he sat down on a rock to catch his breath.
Ahead of him, Carter had reached a clearing, and slowed for a second, worn out. As her breathing slowed again, a cold presence filled the clearing. Had it found her?
There was a flash of yellow light, and suddenly, the world around her was not longer full-colour, but grey, as if it were a television that someone had turned the colour down on. The trees that surrounded her were no longer simply trees, but wooden stakes, holding up rotting skeletons. Behind her, a man strode into the circle of stakes and skeletons, twirling an ornate staff. He had long brown hair, wore a top hat and red jacket and blue tights...but most importantly, however, was that the fabric...and skin...across his chest was slashed in a bloody X shape.
It was the ringmaster of the circus. Now she knew...it hadn't been a trick of the light, she had seen him running after her from the Big Top. A dead man.
But how? How did he walk, when he was dead? And why did he want her?
"Carter..." The Ringmaster croaked, talking as if his throat was lined with sandpaper. "Carter...you need to come."
She backed away hesitantly.
"Carter...it...is your destiny. To die by his hand...to be reborn...come..." He croaked, staring blankly at her with pupil less eyes.
"Don't...Don't come any closer!" She cried, fumbling at her waist, ad bringing up the 9mm handgun she'd promised herself she'd never use, aiming it at his forehead. The deadman seemed to pause for a second, then smiled and walked towards her.
"Carter! Put that down and come..."
He was cut off in mid sentence by a deafening crack, and his forehead exploded in a shower of blood, the force of the bullet lifting him bodily into the air. Time seemed to slow for a second, and then another yellow flash lit Carter's eyes, and colour was restored to the world. She relaxed for a second, until she saw that it wasn't the Ringmaster lying on the ground before her with a bullet hole through his face...but Foster.
Chapter Three: Callaghan's Tale​
The clatter of metal on the cold stone floors served as a warning to Callaghan that his well-earned period of peace had drawn to a close. Sighing softly, he screwed the top back onto the small medication bottle and placed it back amongst the other meds.
The double doors behind him burst open, and a streacher was wheeled in, on which was strapped a struggling young woman in a bloodstained police uniform.
"Callaghan, get her sedated, now!" One of the blue-clad prison guards shouted, pushing the woman back down as one of her straps came loose. Lazily, Callaghan strode to the cupboard and withdrew a syringe, filling it slowly from a bottle on the sink.
By the time he returned, she had managed to snap two of the straps, and the guards were holding her on the mobile bed with sheer force. Ignoring them, and the woman's frenzied screams, the doctor jabbed the needle down at lightning speed, sinking it into her calf muscle and filling it with moprhine. The muscle-injected approach wasn't an effective one, and could end up paralysing her leg permanantly, but Callaghan wasn't going anywhere near her top half, which had slowed it's struggling significantly in the last few seconds.
As the woman fell limply back onto the bed, one of the guards, who had previously hung back, strode fowards and began filling Callaghan in on the situation. The doctor ignored his pre-amble...something about killing another cop. He really couldn't care, all he needed to know was what injuries she had recieved.
Callaghan, you see, was a brilliant young man. He had unrivaled knoweledge of anatomy, biology, agriculture, ementology, and many more of the biological sciences. He was, in fact, somewhat of a national authority on anything living...or would be, if not for the rather unsettling habit he possesed of releiving the storage room of sedatives, narcotics, and other mind-affluent drugs for personal use. You name it, Callaghan had done it, gotten high off it, injected it, sniffed it, orally ingested it, rectally ingested it, or abused it in some other way.
Coupled with his blatent disregard for the wellbeing, or even existance, of anyone other then himself, his sarcastic nature, and his somewhat creepy appearance, and Callaghan was, to put it nicely, not a very nice person. In fact, the only person he'd ever remembered caring for was his daughter, Elizabeth, and his wife had taken her away from him during the divorce. Apparently a high-school teacher living in a two-story house in a defacto relationship was a better environment for Liz to grow up in then with a drugged-out junkie who had been shuttled into prison medicine, living in a cramped apartment scattered with empty pizza and takeout boxes, and bathed in the constant blue glow of a computer screen. Even if that Junkie loved her.
"...shot her twice, one got her in the chest, we think the other hit her arm..."
The guard's voice roused Callaghan from his misgivings, and he smiled. He had the information he needed.
"Great. Get out." He said simply to the previously polite officer, who threw him a dirty look at being cut-off halfway through explaining the woman's hallucinations in what detail he had.
Watching the guards file from the room, Callaghan took hold of the bed and wheeled it slowly through the front room into the surgary, glancing down at the paitent's chart.
"Well, Miss Carter, you sure did make a mess of yourself." He stated smugly, closing the operating theatre doors behind him.
Chapter Four: Dead, I am the one​
The roar of Vincent's motercycle on the freeway almost drowned out the music blaring from his headphones as he sped along at 200mph, ignoring both the speed limit sides hanging out over the chasm that was the city streets below this suspended piece of concrete, and the inaudible sirens behind him that signified that he'd broken more then the speed limit tonight. Rob Zombie's 'Dragula' blasted into his ears as he came up alongside the truck.
Dead I am the one, Exterminating Son, Slipping through the trees, Strangling the breeze...
The asphalt flashed past under Vincent as he ripped the helmet from his head, revealing a full head of long brown hair and a somewhat hooked nose, along with a wild grin.
Dead I am the sky, Watching Angels cry, As they slowly turn, Conquering the worm...
His lips parted to reveal pointed fangs as he slowly pulled himself up on the handlebars of the moterbike, which he'd stolen from the front of a bar several hours ago. It was an older fashion, which caused the Vampire some discomfort...he wasn't one for the classics, Vincent would have preffered a band-new shining 21st century model, as opposed to a remake of some old 1900 model.
Dig through the ditches, Burn through the witches, I slam in the back of my, Dragula!
Leaping from the speeding bike, ignoring the flashing surface of concrete that could easily grind off one of his limbs, Vincent pushed himself off the handlebars to grab the top of the smaller truck, which bore a large red emblem enblazoned on the side. Digging his growing claws into the sheer metal, he glanced back to see the bike fall under the wheels of a persuing police sedan, errupting in a spectuclar display of sparks and flame that singed the white and blue paint.
Dig through the ditches, Burn through the witches, I slam in the back of my, Dragula!
The wild grin remained on Vincent's face as he ripped a hand free in order to make an obscene gesture at the persuing cars, before pulling himself up onto the roof of the truck, digging gashes in the metal as footholds.
Dead I am the fool, Spreading from the pool, Weak and what you need, Nowhere as you bleed...
Ripping the driver side door from it's hinges, the leather-clad creature of the night dropped into the cab, tossing the driver bodily through the open door to fall through the windscreen of one of his persuers, resulting in the policeman at the wheel losing control and steering into a colleague, throwing both the cars in front of all but one of the chasing units.
Dead I am the dog, Hound of hell, you cry, Devil on your back, I can never die!
Behind Vincent, one of the overturned cars ripped a hole in the night sky as it blazed into life with a cloud of flame, engulfing the cars pulled up behind it. A triumphant sneer tearing itself from his lips, he spun the wheel, dropping the Red Cross transport truck onto an off ramp, and into the streets below, where he could easily lose the persuing car. The bloodbags in this van would keep his clan fed for months...of course, Vincent couldn't care less about that...his concern was how much they'd pay for the haul.
Last edited: