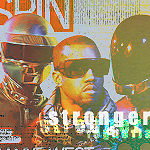 You ain't got no YEEZY!?!
Joined

Oct 5, 2005
Messages

5,680
Age

29
Location
Civil War
____________________​
December 31, 2017. 10:00 PM CST. Chicago, Illinois.
Stephen was sitting in his room, listening to music on his iPhone while reading the newest issue of Game Informer magazine. He didn't really care that the new year was coming around in just one hour. He was just glad that he had another week off from school. Stephen felt as if New Years Day was one of the most overrated holidays the world had ever celebrated. His parents had a different view of the holiday, though. They were busy getting ready to head to their friend's house for a New Years party. Right before they left, his mother knocked on his bedroom door and entered.

"Sweetheart? Your father and I are getting ready to leave. There's a plate of food for you in the microwave if you get hungry." his mother said.

Stephen paused his iPhone and removed the headphones from his ears. He looked up to his mom and replied,
"
Okay, mom. Have fun. But not too much fun. You remember what happened the last time you guys came home drunk out of your minds.
"
Stephen and his mother laughed. He was referring to her current pregnancy with Stephen's future brother or sister, an accident that she and her husband made when they both came home drunk one night from a party. His mother and father said goodbye, and they headed out the door. Stephen put his headphones back in his ears and started listening to his music again. He figured the next few hours would be very boring for him, but he was oh so wrong.

He had no idea that on January 1st, 2018 at 12:01 AM EST, his life would change forever.
____________________​
December 31, 2017. 9:12 PM MST. Salt Lake City, Utah.
Karina Sandoval was sitting at the computer in her room. She was viewing more articles about the Digital World, a place where she hopes to venture to one day. Her parents were throwing a New Years party, and they had no idea that she was still up this late at night. She didn't want to go outside her room; her parents would probably be mad at her for being up so late. But Karina couldn't help it. She wanted to stay up to see how crazy the hype for New Years Day was.

Her golden retriever dog was sitting next to her, whining.
"
Aw, are you hungry, Mason? Come on, let's get you some food.
"
she whispered. Karina rose from her computer chair and walked over to her closet, getting a bag of dog food out of it. She poured some of the food into Mason's bowl, and the dog began eating. She quickly went back to her computer, reading more articles about the Digital World. She had know idea that her dream would come sooner rather than later.
____________________​
December 31, 2017. 11:30 PM EST. Brooklyn, New York City, New York.
Jasmine Williams was excited. She had the house all to herself. Her mother was working an overtime shift, and her father was on a business trip to Germany. Finally, Jasmine could experience New Years Day without the bickering of her parents telling her to go sleep. She was dressed in a white t-shirt, with a yellow short-sleeve top over that. On her head was a yellow fashion beret. Her capri pants were white, and she had on yellow gym shoes. The way she was dressed would make one think that she was going somewhere, but she was really only dressed up so she could feel like she was going to an actual party.



"I wonder what's going on in the world of the internet."

she said.

Jasmine went over to her computer and checked her Facebook page. Nothing of major interest was happening on there. Then, something popped in her mind. She decided to check the internet for anything referring to the "Digital World." She couldn't help but find out if her mother's stories were true or not. It didn't matter if she found any articles or not, because she would learn for herself that the Digital World actually exists in a matter of minutes.


____________________​
Meanwhile, in the Digital World...
Royal Knights Alphamon and Magnamon were leading a squad of Ultimate and Mega-level Digimon to a Digimon village where the forces of the Demon Lords were attacking. As soon as they reached the village, a few of the Ultimate-level Digimon began to evacuate the civilian Digimon out of the village and into a safe location. The rest of the squad began fighting the Demon Lords' forces. Alphamon spotted Dynasmon, a former Royal Knight. He rushed right towards him, engaging his former friend in battle.
"
Why did you do it, Dynasmon!? Why did you betray the Harmonious Ones!?!
" Alphamon asked in anger.
Dynasmon laughed and replied, "
You REALLY think the Sovereigns are so high and mighty, DON'T YOU?
" Dynasmon then unleashed his DNA Disintegrator attack, but Alphamon reflected it with his Holy Sword.
"
The Harmonious Ones gave you a reason to live! You are supposed to be PROTECTING the Digital World, not DESTROYING it!
" Alphamon yelled, throwing a swift swing of his sword at Dynasmon. It impacted on Dynasmon, throwing him back several feet.
"
Ha! I side with whoever has power. My new masters have the power now. And soon, their power will spread throughout the entire Digital World.
" Dynasmon replied.
Alphamon could not stand to hear what his former friend was saying. His grew even angrier, and the Royal Knight began to put more ferociousness into his attacks. Meanwhile, Magnamon was engaged in battle against Crusadermon, Dynasmon's fierce follower and another former member of the Royal Knights. Crusadermon was faster than Magnamon, who couldn't keep up with her attacks. One minute, he was getting hit by her Spiral Masquerade attack, the next minute by her Fist of Athena attack. Alphamon noticed that his fellow comrade was taking quite the beating, so he went over to assist him while a WarGreymon distracted Dynasmon.
"
What's the matter, Magnamon? Can't keep up? Where's that great defensive power of yours?
" Crusadermon said, intimidating Magnamon.
Mangamon coughed, and then tried to unleash one of his attacks on Crusadermon,
"Magna Blast!"
But the attack missed Crusadermon, and it hit a SaberLeomon. Crusadermon continued to pound Magnamon, until Alphamon stepped in. He grabbed her by the head and began to speak to her.
"
Crusadermon, this ends NOW!
" Alphamon proclaimed.
Crusadermon laughed in reply and said, "
You're right....it does.
"
Suddenly, an attack hit Alphamon in the back. The attack was too much for him, and he fell to the ground, releasing Crusadermon. Mangamon looked to see who unleashed this attack on Alphamon, and it was none other than Dynasmon. Dynasmon's Breath of Wyvern finished off Alphamon, who had been hit by too many attacks. Alphamon turned over to Mangamon, realizing that this was the end for him. With his dying breath, he said to Magnamon,
"
Magnamon....run. Run...
" Alphamon then turned into data, and his data flew into the sky.
Magnamon was in complete shock. The Digimon he looked up to the most was no more, and the forces of the Seven Great Demon Lords had won this battle.
"
Retreat! Fall back! Fall back now!
" Magnamon yelled.
All of the forces of the Sovereigns retreated, and the Demon Lords' forces did nothing to stop them. They knew there was nothing more the Sovereign forces could do. Dynasmon and Crusadermon let out menacing laughs as they watched their enemies retreat.
This was truly a sad day for the Digimon Sovereigns and their allies.
Hopefully, the arrival of the DigiDestined will keep Alphamon's death from going in vain. But will their arrival be too late?