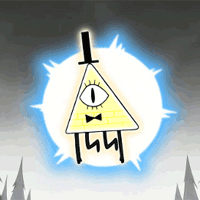 Joined

May 12, 2004
Messages

7,091
Awards

18
Location
Website
[I HAVEN'T WRITTEN SINCE NOVEMBER SO THIS IS PROGRESS FOR ME YAAAAAY lol. This is a silly plot bunny idea that I had, but I just wanted to get this part out there, so
here's a summary of the short story itself~
This takes place before my Gravity Falls fic, Paradox Falls. It focuses on one of the two main characters, Aaron who is about 8 or 9 years old in this. Since he was little, he's constantly worried about being cool and being friends with the cool kids. At school, he learns from one kid that they apparently think running away from home is cool, since it's a rebellious thing to do and rebellious things are cool. (YAY DUMB KID THINGS) So he decides to run away from home. In January. In a snowstorm.
His little sister, Rena, doesn't want him to go and follows him. The two become lost in the woods and then separated, and Aaron is left with the guilt of his big mistake. But, since this is set in the Gravity Falls universe, there's someone around to cheer him up! ...sort of.
Enjoy!
Let me know if you'd like to see more/would like to see the completed short story!]

---------------
"I-I messed up," said the young boy with a shake. He buried half of his face in his crossed arms, muffling his words, "I just... I wanted those kids to like me. Maybe, if I did something cool, they'd like me..."
"Hey, we all make mistakes, kid!"
Aaron focused on his inward-turned sneakers, catching a glimpse at the triangle-shaped shadow cast on the snow.
"Well, not me, but you fleshbags do that a lot," laughed the monster, giving the boy a light slap on the back. "Yup! Gullible, naive, stupid, worthle--"
"Will you leave me alone?" he snapped in his squeaky voice, throwing his arms to his sides and glaring down the monster, "You're not helping."
Bill laughed, throwing up his hands, "Whoa! Sorry, touched a nerve there, didn't I?"
The boy said nothing, hugging his knees and focusing on the ground.
There was a rift of silence between them, the dream demon floating and glowing in the darkness, staring him down with that one, big eye, as the boy tried to cope with what he had done.
It was at least a good minute of silence. Perhaps longer.
"...y'know."
He was too impatient to keep it any longer. Aaron grumbled, focusing on Bill's shadow.
"Aren't you moping about your dumb sister?"
The boy said nothing, pulling his knees in tighter.
Bill chuckled, floating in front of the boy. He landed on the ground and, when he set his feet in the snow, he raised his hand. Like pulling something out of his hat, a cane appeared and he started doodling on the ground.
"C'mon! You run away from home, she chases after you, you both get lost in the woods, and now you have no idea where she is," he said. He seemed to be drawing very crude stick figures on the ground in the snow.
Aaron could barely make out two figures running, one looking much tinier than the other; the sight of it made him reach for his hood, frown twisting.
"Now," Bill placed his cane on the ground just before him, placing both hands atop it, "if I were a human, stuck in the middle of the woods during a snowstorm, what's one big worry I'd have?"
The boy refused to make eye contact, shoulders rising.
"Aw, c'mon, kiddo!"
"Ahh!" his eyes bugged, Bill slamming his little hand on top of his head and forcing the boy to look at him.
"You know the answer!" he said, seeming to smile as his eye creased, "You act like you don't care, but you do! Deep down, it scares you!"
Aaron gulped.
"W-What... does?"
Any emotion that the monster tried to show was completely gone. He just stared, his eye wide and daunting.
"The fact that your sister could be dead," he said, "Because of you."