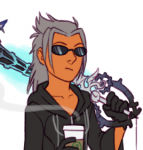 Joined

Jul 5, 2015
Messages

4,520
Awards

20
If anybody has any plot relevance of getting killed of then it's Ventus. Killing off Ventus will completely eradicate Vanitas.
First of all: Would it now? Isn't that running on assumptions? Remember that the instance of self-sacrifice we see at the end of BBS worked only because Ven's and Vanitas' hearts were melded together again in forming the X-Blade, so smashing the X-Blade should've destroyed both of them. And before then, earlier in the story, Vanitas attacked Ven in the Badlands and seemed to be trying to kill him til Mickey intervened. Why would Vanitas do that if it put his own existence in danger?
Secondly, hasn't Ven been through enough already? He's had to endure far more physical and mental trauma than most of the characters combined, and I'd rather it not all be in vain. Plus Ven's already played the self-sacrifice card; rather than it being impactful, I'd just think "Really?
Again?
"