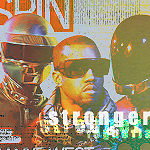 You ain't got no YEEZY!?!
Joined

Oct 5, 2005
Messages

5,680
Age

29
Location
Heroes

&

Villains
An Original Role-Play
__________________​
July 29, 2010. It is a peaceful day in the United States. But that peaceful day soon turns into a day that many will never forget. At approximately 2:15 PM Central Time, something terrible happened in the three major cities of the U.S.
Timed explosions engulfed Los Angeles' Griffith Park, Chicago's Lincoln Park, and New York City's Central Park. Hundreds of people died in the explosions. Thousands more were severely injured. Despite the joint collaborations of the Secret Service, the CIA and the FBI, the government has made no breakthrough in discovering what (or who) caused these explosions.
Exactly one week after this horrible event, now dubbed 'E-Day', many survivors of the explosions have discovered that they possess superhuman abilities. This discovery changes their lives forever. Some decide to use these abilities for the greater good, whether it be lowering gang activity or saving a family from a burning building. Others decide to not exhibit their abilities at all. But then, there are the ones that have decided to use their abilities for personal gain, such as robbing banks or taking over the world.
Where do you lie in this spectrum of superhumans? Do you use your abilities to save the world, or do you use them to rule it? But here is a warning to you. Whatever you decide will impact the future of the Earth, and the future of the human race. But don't let your squabbles against other superhumans keep you from what you should really be trying to figure out: the TRUE nature behind E-Day.
__________________​
Morality​
One interesting mechanic I have decided to integrate into this roleplay is Morality. Morality, simply put, is choice. What do you do when you are faced with two decisions? Will you save a bank full of innocent civilians from being killed by C4? Or will you chase down the evil bank robbers and bring them to justice? Will you save your fellow Hero from his doom? Or will you allow him to die in order to stop the villain and be the hero that gains all the credit? You will be faced with many decisions in this RP. YOU just have to choose them. But be warned, the world will suffer if you make the wrong decision, even if YOU feel it is the right one. Hell, the government might even start to say "enough is enough."
If you make completely immoral, evil, and ill-advised decisions throughout this RP, YOU WILL BECOME A
SUPER
VILLAIN. If you make decisions that result in happiness, idolization, and peace, YOU WILL BECOME A
SUPER
HERO.
This mechanic really works for those who decide to be neutral, or those who are originally a hero or a villain.
__________________


Characters​
Heroes
Neutrals
Villains
Rules
1. NO Killing and/or Controlling anyone else's hero or villain without permission from me and that person. If this happens once in my sight or the sight of others, you will get you kicked out of this RP.
2. No Spamming in this RP.
3. PLEASE, don't try to copy someone else's template and try to get away with it, that will end in an automatic infraction.
4. Post any and ALL questions here in this thread.
5. If you are having a hard time deciding what powers you would like, please refer to these links:
List of superhuman features and abilities in fiction
and
Categories of Superheroes
6. If it was not clear in the story, let me make it clear here: The heroes and villains discover their powers a week after E-Day. But when this RP opens up, it will be November 9, 2010, So you HAVE had MONTHS to somewhat control your powers.
7. Hey, if more than one person lives in the same city, why not partner up or at least be best friends?
8. NO, you may NOT have the same exact powers and abilities as Superman. That means no invincibility. Also, you may not have cosmic powers, such as control over the stars, reality wraping, portal creation, or time travel. Anything Franklin Richards can do, you are NOT allowed to do.
9. I want to make it clear that if you have a hero that has powers that belong in different categories (ex. a character that has superstrength, super speed, and fire powers), you would be considered a "jack-of-all-trades", and that'd be pretty one-sided. If you want to be a good, balanced character, I suggest you have powers that fall under a specific skill.
10. You MAY control more than one hero or villain. Up to three (four if you're willing to keep up with all of them) characters are allowed for use by one member.
11. If you join, you are obligated to stay and finish this RP.
12. HAVE FUN WITH THIS.
13. Who said you had to have superhuman powers in order to be a hero or villain?
__________________​
Template​
Name:
[First and Last. You may have a middle name as well]
Alias:
[Every hero and villain needs his/her own unique name. What's yours?]
Age:
[Nothing younger than 14]
Gender:
[Male or Female.]
Nationality/Ethnicity:
[African-American, White, Mexican, etc.]
Appearance:
[You may be descriptive, or you may post a picture. If you can draw and upload your own costume, that would be AWESOME.]
Alliance:
[Heroes or Villains. Or you may be Neutral]
City of Operations:
[The city your hero or villain does most of his heroic or villainy work. The city does not have to be L.A., Chicago, or NYC]
Powers/Abilities:
[You are allowed up to three]
Weaknesses:
[If any.]
Weapon(s):
[Captain America has his shield. What's in YOUR arsenal?]
Personality:
[How does your character tick?]
Biography:
[A few paragraphs. 2 at the least]
I will post my character later.