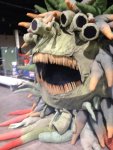 Joined

Jul 18, 2008
Messages

4,283
Normally with girls, I go for them, but they always consider me as the good friend and go for the assholes. Bla bla bla, common story. But, back in February, I met one girl that didn't think of me as just that. She should be a Godsend, right? Well, nope; not by a long shot. She's a fucking idiot. There's still bullshit going on and I broke up with her back in March. To brief anyone who's interested on the semantics of that horrible, horrible period of time, I met this girl because she randomly came up and talked to me. She seemed sweet, kind, and she laughed at my corny jokes. She wasn't amazing-looking, but frankly, I didn't care. So, I started talking to her for a while, and eventually asked her out. All of a sudden, she completely changes into a fucking weirdo. No matter what I said, she took it in a bad way. If I said goodbye, she'd IM me a few hours later telling me that she's been worried because of the tone in my voice when I said it. And there were a lot of situations similar to that. It's fucking ridiculous.

Now, March was rolling around the corner, and I had one thing on my mind that I'm sure many of you also were excited for, SSBB. Oh yes, I was so happy. Now, I realized that she would probably be annoyed about how I was gonna start leaving school right away to go home and play it. But, at this point, she was aggravating me, she was saying stupid things in public, and she annoyed the shit out of me in nearly every way, so I was hoping that she'd dump me just from that. Brawl had been out for a couple days, I left right away. She IMs me saying that she misses talking to me. Here I was thinking it was over. Then, she throws something bizarre at me. She tells me that she'll wait until I get tired of the game because it's worth it, even if we only talk online for a while. So, I pushed it by saying I wouldn't be sick of the game for a long time (which was basically the truth, I played it daily up until mid-April). She said she would deal with that.

Now, I understand that as you're reading this, you're probably thinking that she's the perfect girl, considering how much I could have gotten away with. But the truth is, I hated it. I didn't want a fucking servant. I wanted a girlfriend, so I broke up with her because of how weak-minded she is (though I made up some excuse about how I thought I wasn't treating her well enough and she deserved better and yata yata yata). And course, it took 2 fucking hours to break up with her 'cause she didn't get the hint. Why am I complaining about this now? It happened so long ago. Because now that I finally found a cute girl with the most beautiful eyes I've ever seen, that fucking bitch prevents me from having any kind of chance with her.

She's bitchface's best friend, and she's not too fond of me to say the least after what happened. I found out about this because I talked to bitchface (since we're 'friends' again) about the girl I'm interested in, seeing as how I've never actually talked to her before. I figured I'd ask her best friend if I had any possible chance. Well, of course I fucking don't because to this day, she still complains about how upset I made her. To this day! I mean, yes, I was an asshole. If I had attempted to do this a month or so after the incident, I would understand, but this is just dumb. I hate her so much. Ever since the day I met her, she's been like a curse. Going out with her in the first place completely crushed my self-esteem because I started thinking that she was the best I could do. When I finally ended it, I talked to my friends and they were all hiding their opinions about how horrible it was that I 'dated' her. And that made me feel horrible too. That month-long period was the worst thing about my sophomore year. I finally found some other girl, and she has to come back into the picture and completely screw it up.

If you're tired of reading this long rant, I deeply apologize, but I want you to know how I much I appreciate the fact that you've been reading for this long. And here's the rest. After about 3 hours, of trying to really patch things up, for the sake of getting the guilt off my chest, and hopefully getting the other girl to reconsider her opinion on me, the entire effort was wasted. The conversation opened up more or less with a fight. And what I didn't realize was horrible bitch was on the phone with pretty girl, and told her that I had an interest in her (this was at the beginning of the 3 hr convo). So, I spend so long making things neutral between us again. That didn't take too long, but I did wanna talk to her for a while longer to solidify it. At the end of it, she accidentally slips out that she revealed that info to her while she was still angry. It would have been nice to tell me before, fuck if at all. She said one tiny thing and I had to pry the rest from her. She could have told me so that I didn't waste so much time. I just hate everything about her. And I needed to let it all out. What I hate the most about her is that as much as I call her a bitch, the fact is that she really isn't one, and every terrible thing she's done to me was unintentional except for the phone fiasco. So I could tell her off completely, but I'd still feel too guilty, even after all of this. I could just bottle this up until it becomes buried into my unconscious, or I could let it all out, so I took the 2nd option.

By now, you can either understand my problem, or you may think I'm a total jerk. Either way, I respect your opinion, because I am a jerk. But doesn't a jerk deserve another chance to start over? Don't I deserve to win, ever?

tl;dr

I fucking hate girls.
Last edited: