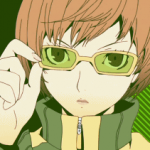 Joined

Jan 2, 2009
Messages

5,221
Awards

2
Age

27
since noone in real life aren't helping at all i might as well go here...
So, in my state, we have to take this known as CAPT. (Connecticut Academic Performance Test aka shitty test to show off test grades in snobby rich towns) We take two practice tests before the real CAPT in September and December. (and the real test being in March) The first practice test was taken a few weeks ago, and my dad got into a car crash in New Jersey the night before the final day of testing. The next morning, I didn't hear anything from my dad, which made me worried as hell for most of the day. To make things worse, the test that day was the test I always barley pass. And of course, when we got our scores back a couple weeks ago, I completely bombed it.
I was really "meh" at first because I thought I could just do better in December and everything would be fine. But yesterday, I got called down to the office only to find out I got pulled out of my drawing classes (which I freaking love) into a class for extra help in English. I didn't really care at first because I thought it was only for a couple weeks or something, but then the principal told me I had to take these classes until March, for three days a week. Only because I failed just one portion of the test.
So does anyone know how I can convince my principal and my English teacher to get out of these classes ASAP? I seriously don't want to get pulled out of my drawing classes, since I've been wanting to be a better artist for a while now, and my skills are improving quickly because of that class. And I just find it stupid that I have to take a class on English especially since I scored Goal and Advanced on the other parts, I have an A in Honors English, and yet they still put me in classes with all stupid people. I should tell them my dad was in a massive car crash at the time the test was taken but I don't want it to seem like I'm making an excuse to get out of extra help classes... so help plz