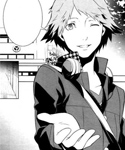 Joined

Jan 13, 2010
Messages

3,758
Awards

1
I don't know what's not to trust. Just because it isn't a direct interview doesn't mean the information isn't directly from the horses' mouth. I mean, if you're throwing out the validity of the "20 mysteries" then a lot goes out with it, including, for example, the idea that Roxas fainted because he came close to both of his "original selves." I don't think they would have put such facts in based on speculation alone.
Things like Roxas fainting however, were obvious. This is something that isn't ever really set in stone, and, as pointed out, would create far more contradiction than would help it. At the end of the day though, the games' canon beats out all other types, and, looking at the games, I would say that that wasn't the case.
Really, take a look a the pictures then try and say that again.
I really disagree. By the end of the game, when he has the scars, ears and eyes, the only difference between him and Xigbar is that single streak of grey in his hair. And its length of course. There wasn't -that- big of a difference.
There. Also, Nomura himself said that the supposed age difference was just an optical illusion, when it came to Braig.
What you're noticing is the difference in the graphics engines. BBS' is above KH2's.