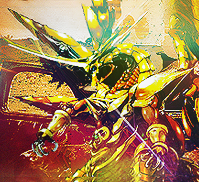 doWnloAd ProgoNOSKES 99% cOMplETeD
Joined

May 10, 2006
Messages

11,535
Awards

8
Location
Website
Prologue
The inhabitants of the world Legaia were once a simple people and while the world at large was very aware, that such things as magic and the supernatural existed, it was a power that many would never witness. It seemed magic was natural to only a select few individuals, humans that could use the very essence of their hearts to manipulate magic. Though normally they were only a bit stronger, faster, and more capable than everyone else, there were some whom were able to manipulate vast quantities of magic. They came to be called the Kabel. Unlike other magic users, their bond with magic was so great, it could be used to generate a weaponized manifestation of the heart, called the keyblade. Using the power of their great magic, some Kabel wreaked havoc wherever they pleased, while others took apprentices, choosing to pass on their magic legacy. Eventually there was an uprising of individuals, who began to seek ways to obtain sources of otherworldly power similar to the Kabel. If this was possible, others could be granted abilities which could change the world for the better.

When searching for new alternatives for magical manipulation, the Kabel revealed to Legaia, that the solution was seru. Seru were strange entities that originated from the dark continent, Cubia Beta. This was the area of the world that was forsaken, haven been struck by a huge earthquake that many millenia before, ripped the earth asunder and revealed seru from beneath Legaia's crust. Afterward they spread among the lands. Often considered monsters, these creatures were made of both biological and magical essence. It was quickly realized that, by bonding with a seru, a normal human being could control magic instantly, drawing out forces which could be used for virtually anything. It wasn't long before experimentation began, both on humans and seru, expanding upon what was known and what wasn't; experimentations were performed to figure out what seru caused what magical abilities, or which seru could be used with human labor to power machines. As years continued to pass, magic, seru and experimentation all became a part of life, In future generations there were even those whom were born with an enhanced magical prowess from their parents previous exposure to the seru's essences, some being nearly as powerful as the original Kabel.

Whilst centuries of experimentation, research, and manipulation of magic, were used to gain a greater understanding of the bio-magical process that allowed humans to bond with seru, there was still so much that had yet to be explained. The true nature of Seru and magic was still a complexity that wasn't fully understood. Ironically during this time, a seru technician named Ombro Nious, made the monumental discovery of the Seru Kai, another world that existed within the boundaries of Legaia, yet was outside of human reach. Unlike the material plane where physical beings can exist, the Seru Kai is a world filled with pure magic, an immaterial plane in itself, having no place for beings that are of the physical nature.

Ombro's findings lead to the development of a technique called "diving", where seru were hooked up to machines which could breech the impassible wall between the two worlds by simulating a seru's death. This process caused a seru to evolve into much more advanced versions of their former selves, thus producing much larger, more potent forms of magic. All major operations thus revolved around using the power of the Seru, which were either sold for profit, used for daily chores, or used militaristically. Seru had a symbiotic relationship with humans and instinctually obeyed them, causing humans to depend on them in every aspect of their lives. As such, Legaia began to flourish during this time, and this newfound advancement in seru-technology gave rise to the Karisto, Sol, and Drake kingdoms.

1000 years later, the dependence on Seru became the undoing of humanity's prosperity, as their powers awakened greed, depravity, and other evil desires in humans. The Karisto Kingdom and the Sol Kingdom were at war with one another, over control of Uru Mais; Uru Mais being the only place in the world that spawned new seru life forms. The Drake Kingdom stayed neutral, as it had always been the least technologically advanced areas on Legaia.

Many methods were used by both sides to try and achieve victory in war, with Seru being the primary tools of warfare. After ten years of war, Conkram's prince, Cort, managed to discover a way to dramatically amplify the strength of his nation's Seru. He began using an elixir, from a substance called Mist that spewed forth from the extradimensional realm of the Seru Kai. The Mist ended up going haywire during a test demonstration in Karisto's capital Conkram, causing the Seru to go berserk upon contact with it and those wearing Seru to turn into monsters with a taste for human flesh.

Although the outbreak was suppressed by unknown travelers equipped with mist immune seru, and the Mist project ordered terminated by Conkram's king, Cort and many of Conkram's ruling body saw it as a means to conquer the entire globe. They'd found a piece of a Rogue fragment; a piece of a extradimensional Seru mutant, left in Conkram after the outbreak. That Rogue fragment gave Cort incredible knowledge and awakened within him an insatiable lust for power. Over the next two years Cort and Conkram's Four Wise Men conspired against the king and queen and built Mist Generators in all three kingdoms of Legaia, before putting on artificially created Seru of their own and activating the Mist Generators. The mist not only caused a global crisis, it also allowed three new otherworldly species to gain physical access to Legaia, which increased danger, fear and panic. Each of these new species named, heartless, nobodies and unversed were just as big a threat as seru.

Legaia had been hit with an apocalypse, pushing the world into a dark age where terror of the mist defined life. As the Mist spread throughout Legaia, more and more Seru went berserk, and more and more monsters spawned. In less than a year's time the majority of Legaia's human population was wiped out, giving rise to even larger numbers of the three species from another world. For those in the places heavily affected by the mist, time came to a standstill. Humans bonded with seru inside of the mist don't age, As such, the world continued to descend into a deeper darkness, with only few remaining in desolate areas scattered throughout the world. The followers of the Mist plan to force those who survived to succumb to the Mist as well.
Cradle of Hope
It has been 14 years since the Mist Crisis changed the face of the world, but there is still a glimmer of hope. In this apocalyptic time, humans with hearts strong enough can forge these mythical weapons of wonder into existence at an alarming rate. This has spawned a completely new generation of keybladers. Rumors of the legendary Ra-Seru bonding with chosen individuals have been surfacing, giving those who can still fight, more hope for the future. Legend has it that the Ra-Seru were born of the Genesis Trees; holy trees that were a gift from Legaia's God, Tieg. In a time of great darkness, the Ra-Seru heroes and their allies are fated to work together and revive the Genesis Trees, ridding the world of the Mist forever.
~~~~~~
This is a role play based on the Legend of Legaia, that has been mixed with influences from the Kingdom Hearts franchise. Below, information and details about the mechanics of the rp will be explained. We'll all be magic using keybladers, but there are special spots open for those whom wish to be a Ra-Seru Hero. If you want one of these spots, please send me a private message for further details than what will be explained in the information section.
Shout out to Purgatory for the revamped information that'll be given and parts of the intro.