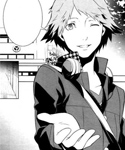 Joined

Jan 13, 2010
Messages

3,758
Awards

1
True but you neglect the fact that lets say the game is important. All the game establishes is
-The letter
-Contents of said letter
CUT SCENE MATERIAL!
And as I've already pointed out, numerous times, in this thread, it does more than that too.
Most of us were...thats why were syaing its not important as it can be skipped since it tells us very little.
Problem is: It is important. It may not drastically unhinge your understanding of the series if you were to skip it, but it IS still important.
Eceryone has based there opinions on the players ability to be WITHOUT the game.
Everyone else has been arguing something that was never important at all. The question was if Re:Coded was important to the storyline. Truly, that has nothing to do with the players ability to be without the game, because, regardless, the game IS important to the storyline.
Yes there is its called KH1 and KH2
Not exceptions. KH2 alone shows how KH1 isn't an exception as the entirety of the storyline is summed up in KH2's intro vid.
OH ALLISTER MY QUEEN IN SHINING ARMOR! saves me yet again
Oh boy, this alone should denounce your opinions.