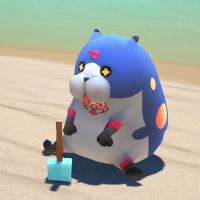 trapped in revamp hell
Staff member
Joined

Nov 1, 2009
Messages

17,705
Awards

36
The next batch of translations from the Kingdom Hearts Series Character Files are short stories for Xigbar, Marluxia and Larxene!
As always, credit goes to goldpanner for the translations!
This is a story from long, long ago...

People lived in peace, bathed in the warmth of light. But then, people began to fight over the light, and as a result everything returned to the void. But...

If you're asking me when this happened, it's an old legend so who knows? I mean, it's possible that this very moment could have been set long, long ago.

You're looking at me like you're pretty lost. Whatever. You don't have to understand it right now. Can't say it wouldn't help, though.

You understand it's dumb to judge a book by its cover, right? Well, maybe we shouldn't judge a box by its color. I mean, is a "Black Box" actually black? What kind of black? Was it ever black at all? These fools are just blindly searching for a box that happens to be black. They don't understand what the Black Box actually is or what's inside, and there's a big difference between "understanding" something and "knowing" it.

Now then. Do you want to know why the box went missing in the first place? Anything else you want to know? Take that offer with a grain of salt. There are limits to what I can say right now. Remember what I said about the difference between "understanding" something and "knowing" it. Plus, there's always the chance that there's a big secret that nobody knows, just like the content of the box. Leave room for surprises.

Question: if I told you the world was going to end tomorrow, what would you do? Would you accept it as inevitable, or would you try to stop it? Remember what I just told you about the Black Box. No one really understands what kind of "black" it is. And what is the end of the world in the first place? No one understands what will actually happen.

Now, remember what happened when the man known as Xemnas opened the door to Kingdom Hearts. When and where did that lead to? For a while now, I've wondered whether this time we're experiencing is really moving forward. Or if time is even going by at all.

Heh, you look like you don't believe me.

But what other explanation is there?

I'm watching over you, like I have this whole time, like I always will. Well, not you. The Keyblade. After all, I'm here to play the role of the fool desirous of the Keyblade's power.


This is Olympus: the world where Sora always goes to ask heroes about hero stuff.
The definition of "hero" changes depending on the world and the era. Same with Keyblade wielders.

Now what kind of Keyblade wielder will you become, Sora?

"All this altruism is giving me the warm and fuzzies. So then, does having a heart of light come with an extremely good insurance policy?"

"Just say what you mean," Sora says, glaring at me.

"Oh, but I did though. No good will ever come from putting other people first."

"I was able to save Meg's life because I was ready to risk my own," added the hero standing beside him—Hercules.

I snorted at the two of them. "Because you've got friends in high places, you mean. Tricks like that don't fly for your average joe."

"What do you know?" says Sora. "You weren't even there! If you were, you'd admire Herc's courage."

There is a light in his eyes, just like always. He's giving me that look—the one I notice every time.

"I don't admire one guy leaping into danger if it means someone else might have to jump in to save him. You're all just lining up to lose out. Dooming others to take the fall with ya." How much of my true motives should I let slip? Doesn't matter if you stay in the dark, but I do want you to feel a little hint. Heart, guiding key, you know the one. There are boatloads of people whose altruism led them right into annihilation. "Oh, and you can spare me the usual party line. Yes, hearts are powerful when they're connected. But if you put too much of that power in one place, some of those hearts might end up breaking."

Just like always, I turn away from Sora after saying my piece. Hm, but maybe it needed a little more oomph. I'm trying to sell the Keyblade-seeking fool, after all. "Still, Sora, that doesn't mean you should change. Accept the power you're given. Find the hearts joined to yours."

In a way, that's what I'm doing. Joined hearts, guiding hearts—two hearts that are different in the same way.

"Why would I ever take advice from you?"

"As if! You don't have any choice but to follow this sweet little trail of bread crumbs. And at the end, you'll finally realize what destiny has in store for you. In fact, your reward might be right around the corner. You're so close!"

I end it there, and vanish from Sora's sight.

Yes, the end goal seems closer than I'd thought.

Soon I will reunite with my old partners—and my mission will have been a success.


May your heart be your guiding key—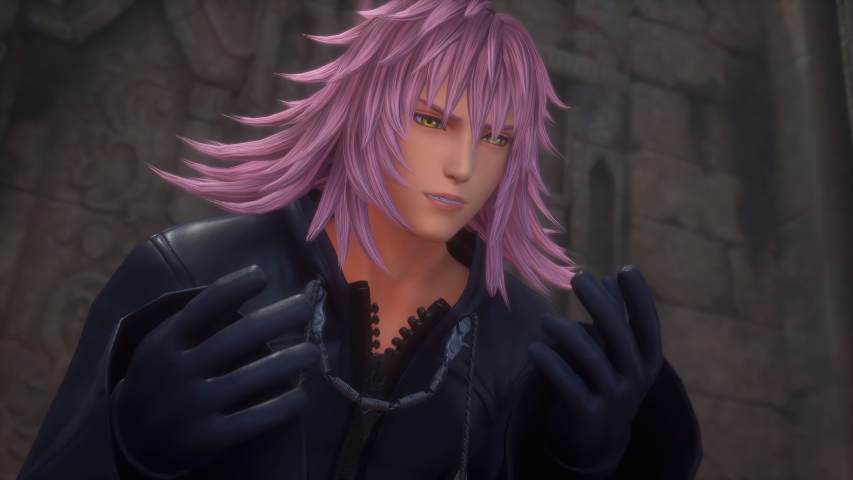 Marluxia Story: Ephemeral Flower
I am on the cusp of reclaiming my identity… My purpose for being…

Before, I had lost everything—even my name—to oblivion. I was filled with unease. I was exactly like Roxas when he first joined the Organization. I did, however, have power.

Ironically, I was put in charge of the castle that ruled memory. I knew it was possible for memories to be lost upon losing flesh and becoming a Nobody. It is why I was eager to lend my hand to the research on memories. I also hoped it could lead to the return of the ones I've lost. Memories rule the heart, the heart is built from memories. A heart with no memories is nothing more than an empty husk. By rearranging chains of memories, you can control people in any way you wish.

I suppose that appointing my amnesiac self as the leader of Castle Oblivion was part of someone's plan. But whose? Well, not that it helps me to know now.

I simply wasn't able to obey Xemnas. I don't understand why. I pretended to follow him, plotting my betrayal all the while. Perhaps it was the vestiges of my heart, still somewhere inside me. Perhaps my heart was guided by the key. I have no clue.

I didn't find out until much later how special that castle was. Castle Oblivion was a sealed land—a place where a hero of the Keyblade slept. Where he slept.

"Soon the emptiness will shatter your heart—here in this world of nothingness!" I declared, facing the hero of the Keyblade. We had manipulated his memories, but he was still here facing me. "The likes of you will never understand our pain!"

The hero ended me, then. I awoke as that man's vessel, and faced him again.

But, once again, I was annihilated. The next time I awaken, I won't be a Nobody.

"Oh… So, now it all comes back to me." I chuckle self-derisively.

"Hey. Is that a real laugh?" the hero asks.

"Yes… My heart is remembering how to feel," I reply, touching my chest.

"Really? That's good."

"And now, I am on the cusp of reclaiming my identity… My purpose for being… Thanks to you, Sora."

My memories are returning with my heart. A long time ago, Larxene told me that hearts are an inconvenience. Right now I agree—my heart is built of dark feelings. Sadness, pain, hatred—no, that's not all. All emotions are coming back to life inside my heart, even love. Humans—I, now human—feel hatred because of our love. I know this. Darkness exists side by side with the light.

If there were someone out there who could predict the future of this world, I wonder if they would have foretold this outcome. I'm sure they wouldn't be able to accept it. I wasn't able to. Perhaps that is why I became a Nobody. Perhaps not.

What should I do now? What is the right thing to do? Now that I am human, where should I go?

Is my future set in stone, even now? I don't know.

Just as always, I barely know a thing. There is, however, one thing I am sure of: the name of that little flower.

Perhaps I had a weak heart that turned its back on the truth—perhaps I shackled my heart with chains of memories and threw away its freedom.

I lost as I gained, gained as I lost.

But what did I lose? Memories? Or something else? I don't even know that. But, that's fine. I did gain memories. And, I regained these dark feelings.

I was swallowed up by the darkness I took pride in, I've been sinking into an oblivion devoid of light.

But, that's over now too.
I'm taking my real goals to the grave.

What, you think that's too much? What do you expect? Not like I had a heart. Those guys were always yapping about hearts, but to tell you the truth, I didn't care.

But, hm—a heart is such a wishy-washy concept to begin with. You have to be pretty shady to be researching something like that in the first place! It's beyond me. I can't stand know-it-alls in white coats. Not fond of condescending jerks, either. Not a fan of guys who hide one eye. The eyes speak volumes, as they say. I also hate macho muscle-heads! And I hate beardos! They give me chills. Speaking of beardos, I'm not that into con artists either. Don't like the quiet type who swing spears, and I really hate the noisy type who play instruments.

Huh? Well, yeah, I was talking about things I hate—love and hate come from similar places? You're hilarious. Hey, let's see then. Things I like… What do I like—oh look, I don't like anything. I hate everything. So don't go getting any funny ideas about my hatred coming from "special feelings" or anything. I'm only out for number one. Sorry you got used.

Ugh. Not having a heart is way more fun. You can just go about your day without developing special feelings for randos.

Loving things only ends up hurting. That's exactly how we were able to use you, you know. Like, imagine if you couldn't eat your favorite ice cream any more? That would suck, right? So wouldn't it be better not to like it in the first place?

The things I hate the most of all are losing. Being tricked. Not knowing things.

Ugh. I am really not looking forward to being human again. If I knew things would turn out like this I wouldn't have hopped on this train. Not having a heart is way better. I'll lose my excuse.

Excuse for what? Of course I'd never tell you. It's a secret. Why should I tell anyone about the important things in my heart?

The more important a feeling truly is, the deeper you have to shove it down into your heart. Doesn't mean I'll forget.

When my heart is back, it'll mean that important thing inside my heart will be back too. But it's not love, and it's not hate. It's my important thing. And I'm not telling anyone about it. I really hate blabbermouths, you know.

That's why I'm the only one who will ever know!

My secret!
Check out our previous articles to read more stories!
Last edited by a moderator: