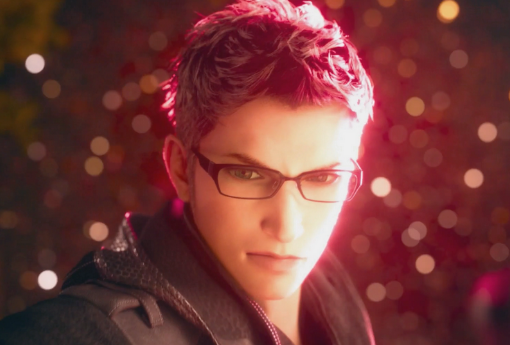 Joined

Jun 23, 2017
Messages

1,072
Awards

3
Hello there, fellow KH friends.
Yesterday, I have been weak and thus I bought Kh1.5+2.5 once again (on PC this time). I wanted to get this one as it contains the oldest games. And as a technical enthusiast, I was curious to see how it would hold up to today's standards.
The goal of this topic is to review the technical aspect of it. What has changed and how does it work internally.
Please share your reviews as well. The more the better.
- First of all, the settings. They are great. I wasn't expecting them to be that detailed: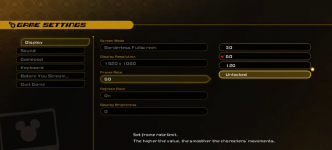 You get fps options, resolution options and gamepad type selection. They did a splendid job unifying the icons for controllers/keyboard in all the games. This is really great considering there are 4 playable games that needed to be aligned with the same graphical convention.
My only complaint (and this is a huge one): no japanese voices!!!
This is terrible especially considering it was written on the epic store page that there was dual audio. The reason behind it probably comes from the pre recorder cutscenes (theater mode for kh1) that use lip syncing. Having dual audio would double the amount of disk space taken by these videos. Note that com, days and re:coded should not be impacted as they never had lip sync in the first place.
- Second big topic: Mouse and Keyboard control:
This one is insane. I was not expecting them to map the camera to the mouse. Remember KH1 and its slow outdated camera? Well, they miraculously managed to make it super reactive now. It's insane. It's not as good as kh2 which is the golden standard in term of camera, but it's a pretty good step forwad. I still haven't tested with a controller if it's better as I still believe the ps4 version could be improved. Note that the camera in kh1 will still refuse to move when it touches obstacles (walls for example).
- Third topic: The save files. We need to talk about this. They are not regular files. They are PNG images with the data encoded in the picture.
Here is a save file for KH2: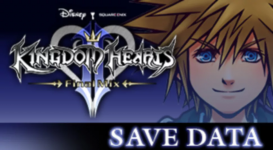 In theory, you could take this picture, paste it in your folder, and that's it. The save data are encoded as 0 and 1 in the pixels. This is so crazy and fits KH so well that I had to mention it.
So I am pretty happy with the port. It is rock solid. However I have some minor complaints I feel the need to address:
-BBS menus are not made for HD screens (and even less for 4k). They are blurry and you can see the pixels in the fonts and icons. You can clearly see it was designed for the psp and they didn't manage to scale it properly, which is sad considering DDD got a much better treatment. However, there is a proper save menu compared to the ps4 and it's pretty nice. I wish they would find a way to upscale it a little bit to make it way more playable.
- Prerecorded cutscenes are not HD. They are upscaled 720p. You can see the aliasing in all the cutscenes of chain of memories, days and recoded and it is really distracting (more than on a flat screen tv as you are closer to your desktop screen). I know making them more hd would require the files to be larger, but I would say: PC can handle it. It should be possible to get proper HD cutscenes.
The only exception is the theater mode for KH1 and the Roxas+Xion cutscenes that were rendered 4 years later. Those one are gorgeous and should be the standard for the other cutscenes.
That's it for now. If I get more info later, I'll post them here.