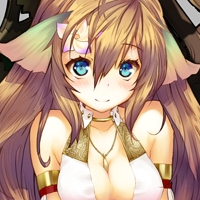 It's the only NEET thing to do.
Joined

Dec 23, 2007
Messages

9,638
Awards

3
Hey there yet again :3
We have a nice bit of info translated from the latest Famitsu~
Introduction

The "World Submerged in Sleep" is said to be connected to dreaming, it can be opened by unlocking the "Keyhole of Sleep" that exists in that world. Instead of Heartless, in this world there exist creatures that devour dreams called Dream Eaters. There are two kinds of Dream Eaters, those that consume dreams and plant nightmares and those that eat only bad dreams. Investigating the Dream Eaters becomes the key guiding to the "Keyhole of Sleep".

Yen Sid says to Sora and Riku, "When you unlock the Keyhole of Sleep and return once more to this place, you'll be acknowledged as Keyblade Masters." It is with these words that the adventure takes off.

From the trailer, we can confirm that Sora and Riku have new outfits and that Riku's hair is cut. The Keyblade that Riku uses is "Way to the Dawn".

Traverse Town

Two new areas are introduced, "District 4" and "District 5". In the lit up streets of this place the "Reaper's Game" is taking place.

Character: Neku Sakuraba

A 15 year old boy who grew up in Shibuya, Tokyo first introduced in The World Ends With You. He is accompanied by a cat type spirit called "Neko Cat" whose tail is like a music note. He has strayed from his partner and for the sake of winning the Game, Neku says that having a partner is necessary. Sora helps him out by partnering with Neku, though he doesn't really understand the Game.

Dream Eaters

There are two types of Dream Eaters, your enemies called "Nightmares" and those that fight alongside you as companions called "Spirits".

Spirit: Koumori Bat

It is a furry bat like Spirit. It is the first Spirit that Riku has.

Spirit: Wonder Cat

Though it's hard to see what part of it is cat like, it's a plump animal with a blue back and a white belly. It's the first Spirit that Sora has.

Nightmare: Kuma Panda

It's a panda with bear like claws that wears a short cloak and a slightly atrocious glare.

Nightmare: Torpedo Fish

This fish flies midair. Overall it's about as long as Sora?

Nightmare: Wonder Cat

The Nightmare version, it's slightly more sinister with red eyes and body and it's black back.
Source:
KH3D – Famitsu Details « SQEX
Also the pages from Famitsu (nothing special, as such):
Source:
http://photozou.jp/user/top/817014
Last edited: