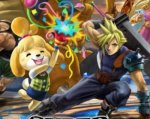 Joined

Feb 15, 2012
Messages

4,550
Awards

2
Location
Re: KH3D English Promo Trailers! (New Dream Eaters Trailer!)
At 0:47 it says on the bottom of the top screen in yellow text "Use more of each material to create a higher-ranked or higher-leveled spirit"
Ah, it does, but that is the breeding menu so I'm pretty sure it just meant if you use more of each material you will create a stronger Dream Eater. Unfortunately I don't think we can raise our already existing Dream Eaters.
I'm loving dream eaters more and more, I hope they are more helpful than they were in the demo though
It depends on what rank they are, how many abilities they have, and what level they are. The Dream Eaters in the demo had the bare minimum of everything I imagine, but so will our starting Dream Eaters so that makes sense
But they do get better as you are able to raise them to be stronger.