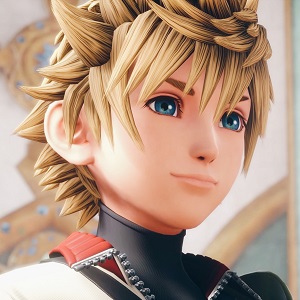 Joined

Oct 22, 2010
Messages

10,531
Awards

37
Location
That's what I was thinking, like, I really don't want her to get kidnapped again. What I would like to see would be her to finally able to awaken her Keyblade and through her connection with Sora, somehow awaken in the RoS. and be able to kick some heartless can as Kairi. and if Not 3D, then KH3!
While not the same, I was thinking in a similar manner. If the platforms within the heart are connected with the RoS but normally inaccessible, Kairi's strong connection with her friends could open a path unintentionally.
While I do think it would be not wrong for a keyblade to finally choose her and she awakens an own keyblade, it shouldn't be directly playable nor should Kairi be able to directly "kick ass".
It'll be more like if you throw a dog into water to force him to learn to swim...Kairi would be stranded in the RoS and would need to slowly learn to do things on her own since both Sora and Riku are occupied with other things (not to mentions there's still Ansem's data!).
I think it's possible for someone from the waking world (Realm of Light) to be sent to the Realm of Sleep, so we can't rule out Kairi or anyone esle being there.
Well, we already see with Sora and Riku that this is possible, so why not for others?
When we are speaking of beings who don't
have
an existence in the waking world anymore, like Naminé, Roxas, Xion, Eraqus, Xemnas or Ansem SoD,
that's
were things are going to get interesting.