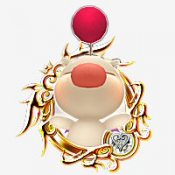 We are Moogle! Hear us...kupo?
Joined

Oct 5, 2009
Messages

8,349
Awards

17
Location
Yeah! I called those headphones (except at the wrong event lol, I thought they were going to be at the UK event xP)
Anyways,
TO THOSE ABOUT THE HEADPHONES!!!
:
They ARE NOT, I repeat ARE NOT!!! official KH headphones and SE will never release them to sell because technically you can already buy them. They had headphones exactly like them at NYCC except with the FFXIII-2 logo on the sides (the Capcom booth also had a pair with Asura's Wrath logo on the side). Anyways, there is a certain company that makes those really high quality headphones and you can customize the ears by putting your own image on them for a small fee (the headphones themselves aren't cheap). Regardless, at SE's events they generally put the image of the game being demoed on the ears to match the game.
Can someone who is attending E3 ask the SE attendants the name of the company that makes the headphones, I want to know what the companies name was again, I forgot. The reason being, now that I know SE licensed them to make these, I want a pair, so I'm considering buying a pair from that site and asking them to customize them like these above
EDIT: I found the company who makes the headphones, I am pretty sure it is the Astro Headset which costs $200 per headset (minus shipping and handling). Steep price but it does say you can customize the speaker tags on them.
Last edited: