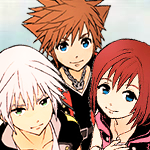 Joined

Dec 5, 2009
Messages

2,989
Awards

15
Location
I think it's awesome that they're already this far, but doesn't the last 80% of a project tend to take the longest or have my teachers thought me nonsense?
Anyone else think they might have already stated working on KH2.5 and are going to announce it next year along with KH3?
KH3 coming out mid to late 20s sounds legit to me. That way we'll have time for 1.5, 2.5, BbSV2, Kairi and Lea's adventure, Pluto's side game, Kairi and Lea's adventure Final Mix, KH Browser game, Kingdom Karts, and Theatrhythm Kingdom Hearts.
Kairi and Lea's adventure sounds like it would actually be fun and quite wacky. I wonder how they'd get along. Also didn't you forget Re
luto's side game? You know for when it's ported to another console.
Guys, I meant to write that Kingdom Hearts III probably will come out in my mid to late 20s, refering to how old I'll probably be.
Well considering that within the next 2 to 3 years we'll be in our mid 20s, yeah it'll come out when we're in our mid 20s. I don't see what's so bad about that tough.