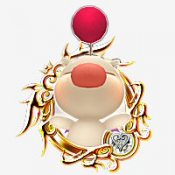 We are Moogle! Hear us...kupo?
Joined

Oct 5, 2009
Messages

8,349
Awards

17
Location
Re: Kingdom Hearts 3D Collector's Edition Announced
I've paid my entire collector's edition off, so when it comes out I won't have to lay any money down because they already have the funds paid for it by me in the system. All they care about is getting the money for it; whether that's before it comes out or after is irrelevant.
lol, I usually pay one penny short of the amount, that way the day of, I walk in (with a penny in my pocket in case) and if I see someone in the store I ask for a penny from them and then I go to the counter and buy the game for a penny...IDK why lol, the look on the person whose penny I got is priceless