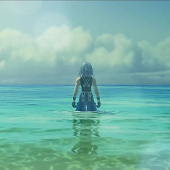 Be Wiser Than the Serpent
Joined

Nov 4, 2012
Messages

3,765
Awards

37
But there are other characters who do have them. In addition to Lauriam, there is very obviously Axel, and possibly Aqua.
TBH, Saix always struck me as more likely than Axel until they randomly introduced Mystery Girl whoever. His jealousy of Axel is so extreme, similar to how Riku reacts to Sora's closeness to Kairi and later D&G in the first game.
As for Aqua, she does blush when Zack flirts with her.