Exciting news for us KINGDOM HEARTS fans! KINGDOM HEARTS HD 1.5 ReMIX is now available for pre-order across all America and Europe, so what are we all waiting for?
For a limited time, preordering the game will come with a special 24-page artbook to commemorate the release of this HD remaster collection.
This HD remaster will include for the first time in outside of Japan KINGDOM HEARTS FINAL MIX, KINGDOM HEARTS Re:Chain of Memories which was previously only released in Japan and North America, and KINGDOM HEARTS 358/2 Days remastered as HD cinematics. The entire collection contains trophies, updated graphics, updated gameplay, and remastered music by series composer Yoko Shimomura.
KINGDOM HEARTS HD 1.5 ReMIX will launch across North America on September 10th, September 13th for Europe and September 12th for PAL.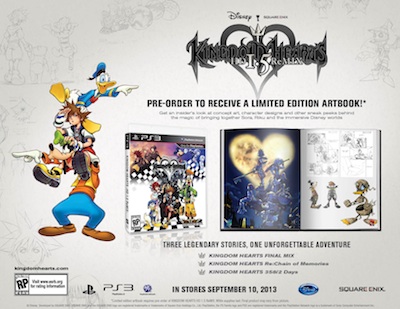 If you wish to learn more about where to pre-order the game, check out the official KINGDOM HEARTS website. However, if you wish to grab a Limited Edition copy, you should hurry up since it's apparently VERY limited.
Edit: Thanks to Taochan we've learned that there is indeed a difference with the standard bilingual edition and limited edition orders at Gamestop Canada. For all those who wish to receive the preorder bonus concept artbook, you will need to select the limited edition. If you placed your order prior to this announcement and want the bonus, you will need to cancel and change your order as soon as possible.
Source: PlayStation Blog