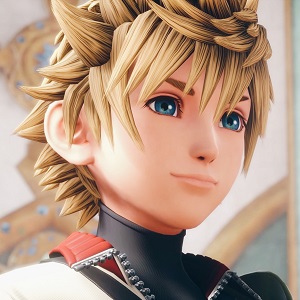 Joined

Oct 22, 2010
Messages

10,531
Awards

37
Location
Well, what do you know! This is certainly interesting, indeed and now Kairi knows what she has to do next to order to save both hearts of Sora and Riku.

Like Goofy and Kairi, I also realized the same truth as them when Sora became his own Heartless in order to free Kairi's heart! That was a nice way of tying that event to what is actively going on here in the castle of the King and I'm hoping there will be more connections like that throughout this story of yours.

I think you're referring to Anti-Sora, right??
One step after the other though. She knows what to do now in order to gain a better understanding and hopefully control of her own nascent powers. Definitely saving Sora & Riku is still on a different piece of paper. ;D
Heh, things like these is what you get when you plan a story out in advance. To connect the Mysterious Figure from BBS and its state of existence with the state Sora was in after Kairi "purified" him and before joining with Roxas was an idea I originally entertained back in 2012. It serves to both incorporate the Figure without most of the whole timey-wimey baggage and to explain/explore another part of the KH universe's lore without introducing a completely new, detached concept.
To build such connections between existing parts of lore and different KH games (all pre-DDD of course) is one of the core things I incorporated into the story so there
will
be more like this down the line.
I like how you reference [I]it. [/I]I still remember our talks about the winged creature and what it has in store for your series. xD So I can't wait to see how upset the winged one becomes.

Anyways, I wonder if by chance anything from chi will ever influence the direction your story goes or not, although if I remember right, a lot of this was written and planned already. Haha, I'm coming off track. I really enjoyed this chapter because it felt like a right of passage for Kairi to gain support and learn more of what her powers do. You portrayed it so well too. <3 And Goofy coming to that conclusion first was surprising and adorable. Either way, I had a lot of fun reading this chapter and seeing Kairi become more confident with herself.
Hey thanks, it will definitely a crowning moment for the KH girls and will allow Xion to keep "it" better at bay for a while in any case.
The Keyblade War does play a role obviously, yet it serves more as a background motivation for Xehanort and partly for some settings.
Since the bulk and core of the story was planned and imagined before even DDD came out, it certainly won't include any Foretellers or similar stuff that was introduced by x[chi].
The overall direction of my story itself was so far not altered or influenced by any developments that came with DDD or later entries, so any similarities to things happening there come just from my own interpretations which I made with the knowledge base we had after the end of Re: Coded coinciding with actual developments in canon.
One thing I
did
alter is switching some side/support characters around and introduce a group of characters that wasn't supposed to be in the story at all first (no, not my original chars), but that change affects only some character
roles in the story
instead of the story itself and results in one group of characters being bigger than originally envisioned.
I'm glad you enjoy this chapter and think I managed to capture somewhat of a decent portrayal of Kairi and her interactions with the central Disney cast. Letting Goofy coming primarily come to that conclusion was my take on the often implied "hidden perceptiveness" he apparently has in the KH series (like i.e. him immediately recognising Mulan's disguise in KH 2).
Queen Minnie, Daisy, Uncle Scrooge and to a certain degree the three ducklings are planned to eventually become the more close "Disney companions" for Kairi but for this particular situation I needed someone who actually witnessed the whole restoring Sora bit in KH 1 in order for the whole epiphany to make logical sense.
I'll be honest and say that I found it quite a challenge to write Kairi in a way that keeps true to her core personality (the little of which is shown in actual canon) and expand on it without making it look unrealistic or irrational.