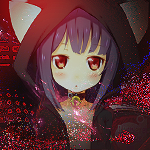 Joined

Sep 14, 2006
Messages

6,552
Awards

16
World: Unknown

~- Never Let Me Be -~

Brown floated in the air, trying to figure out which way White had gone, leaving him separated from the rest of his group. Hovering above a world, he watched as a cloaked figure, one that looked and felt oddly familiar to him, went zipping past him and descended upon the world. Curiosity getting the better of him, Larxen tapped into the ability he hadn't used in ages, Aura Sight, or also called Eagle Vision on his home world. Larxen felt a rush of emotion he couldn't quite place as the world became dull and muted in comparison to everything else that was around him, only for the small surge of excitement to get strangled by the aura slicked with dark orange and black. It was also during this point that he caught the muted colors of a Nobody, and it took his brain a second to register what was happening.

Which led to him swearing under his breath.

Quickly diving after the cloaked figure, Brown kept sending up a silent plea that he'd be able to stop whatever the witch had planned in time.

"---for your crimes Sononea, you and your allies must forfeit your lives."

"No, that's not fair!"

The cry of despair from Pink made Larxen's damaged heart break, and even led to him doing something else he hadn't done for about twenty or so years. Flicking on the button that would send the glider onto auto pilot, he stood up and leapt off of the glider. Flipping in midair he listened as the wind whistled past him as the faint, distant cry of a hawk tore through the air.

"Haha, you ready for this brother?"

Coolly sneaking a look in the direction of the boy standing beside him, Larxen held the dark grey eyes of reddish-brown haired boy next to him. Why had he let Altair convince him to come out here again? Larxen wasn't entirely sure, but the rookie assassin turned his gaze back to the edge of the building; staring down at the bale of hay down in the street made him felt anxious.

"Come on, this is just what you need; or do you really want to lose a finger?"

Swallowing the fear down, Larxen really wished that his friend... no, his brother, would just shut up. The Master had given the novices all a choice: They could either climb to the tallest building in Florence and do a leap of faith; or they could have one of their fingers removed to become a full-fledged assassin. And of course, being the idiot he was, this novice had chosen to climb a ridiculously tall building and do a leap of faith when he was deathly afraid of heights. So, Altair being a fellow trainee and Larxen's best friend, decided to come with said idiot to help him out with this leap of faith.

Catching onto how scared he was, the novice felt Altair turn his gray eyes onto him and asked in a gentler tone, "Hey, you doing alright?"

The rookie assassin nodded slowly, before he carefully inched closer to the edge and asked, "How often do you think we'll have to do these?"

"I don't think Master Anya will make us do it again after this."

"Really? Okay..."

"Larxen!"

Larxen didn't listen to his friend's startled shout as he practically threw himself off of the tower. Listening to the cry of a red tail hawk as it flew overhead, Larxen closed his eyes to try and block out the image of the fact that he had just jumped off of a building. Muttering a quick incantation under his breath, he felt it when his back collided with the magically softened hay that also protected him from injury...

Opening his eyes that he hadn't realized he'd closed, Larxen climbed out of the hay and looked around. He saw that the witch was hovering over his fellow Nobodies, Sononea, and even some people he didn't know. Squaring his shoulders, Larxen stalked over and called, "Hello bitch!"

Drawing the witch's and, quite frankly, everyone elses attention, he grabbed a hold of Pink's and the little girl's hand and pulled them behind him. His head was pounding in time to his borrowed heartbeat, and that really ticked him off.

The cloaked woman looked at Brown, her face hidden as always behind that damnable hood of her's. Even so, he could hear the smile in her voice as she purred. "Assassin? So you still live?"

"Y-you can't trust her Larxen, she'll kill you the f-first chance she gets."

His control over his temper was shot, and wouldn't yours be if you were effectively cornered by the two that cursed you to this half existence? Not to mention if one of the two was responsible for cruelly slaughtering your surrogate family? Leveling cold, empty eyes on the witch beneath his helm, Larxen snarled, "Of course I still live; not that I'd really call this half-life "living," to quote you. And before you even think about it you lying, manipulative bitch, don't you even dare bring up my sins. You have no right to do that," he spat. And even though he could tell that Pink was both shocked and scared by this darker side, Larxen didn't really give a damn at the moment.

"Strange? I thought I had every right to lay your sins down in front of you? And besides, if you think about it you're the one that has no right. You don't even have the right to be." All the playfulness had disappeared from the witch's voice, replaced instead by that all too familiar ice.

"Please, you have to promise me you'll look after Ashlynn, son."

Keeping his eyes on the witch, Brown spat to his two male coworkers, "Red, Yellow, if you want to live, I suggest you haul your asses out of here. If you want to lie down and die here, nice knowing you cowards."

"Larxen, stop it!"

"Brother, please don't let them kill me!"

"Ash!"

The order from Pink came to him from a long distance, and he knew that he was being unreasonable; but he found his button for giving a shit was broken beyond repair. Ignoring his more reasonable teammate, he clenched his fists and took a step forward. He felt the anger curling under his skin, and Larxen wanted nothing more than to let loose on everyone.

"It's the darkness, he can't think straight with how much it's consuming him."

"Are you serious about this?"

Larxen heard the exchange, but just like with the order from Pink, it was coming to him from a million miles away.

"Shh, you have to focus Larxen. Block out everything and focus on what your heart wants you to do."

"Aw, poor baby assassin, did the master show up to protect you?"

Larxen didn't like the idea of it, but reflex had him following the whispered command from Anya and totally ignoring the witch. With the soft order he got the clarity he needed to realize what he needed to do. Glancing over his shoulder, he sensed the terror that Pink was emitting from the illogical reaction that he had. "I'm sorry, I didn't mean to frighten you Lexis. How about we get out of here now?"

He felt the little girl's eyes on him as she asked, "What about the others?"

Crouching down, he ruffled the girl's hair and answered gently, "You and Lexis are my first concern, and even then, don't worry; those guys can take care of themselves. But how about we get you girls out of here and to somewhere safe?" He felt a brief surge of relief as the girls followed after him, and yet he felt the hatred and guilt eating away at him since he knew, unless they thought fast, he wouldn't be seeing his male coworkers again.

And the witch's words just backed it up as she catcalled in his mind, You save the girls and leave the rest of your friends to die; you're no better than you were twenty years ago!

Conjuring a portal, he urged the girls through it and after stepping inside himself, Larxen collapsed it just as Sononea screams pierced the air, only to be cut short as the hybrid choked on his own blood.
Last edited: