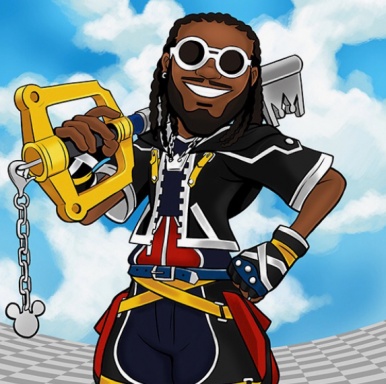 Joined

Dec 22, 2008
Messages

4,966
Awards

5
This is my first fanfic so it may be crap but I hope you like it.
​
Kingdom Hearts: The Lost Keyhole
​
2 months has passed since the events at Kingdom Hearts as Sora, Riku, and Kairi are now together again at Destiny Islands.
The three were relaxing on the beach one done until Kairi found a letter floating in the ocean with King Mickey's seal on it.
The letter told them that the King was sending Donald Duck, Goofy, and Jiminy Cricket to pick them up in the king's Gummi Ship and bring them to the castle at once.
The king had no reason for them to come pick the three teenagers up.
Donald, Goofy, and Jiminy arrived in Destiny Islands the next day.
When they arrived Sora ran up to hug them and then he started to cry because after the events at Kingdom Hearts were over he thought he would never see them again and now he was able to.
Sora and Kairi were ready to go but Riku seemed pretty mad about going, "Riku, why are you not on the ship?" asked Sora.
"Why do you care Sora?"
"Wha-What's wrong with you?"
"The king is probably gonna ask us to go on another journey and probably fight another form of Xehanort"
"Hey you don't know that, what if he just wants us to help him move something in his room"
"Ha ha ha, Sora you never know how to be serious, but whatever, I'll go!"
"Sweet"
The six arrived at Disney Castle but it wasn't the same, something was different but they couldn't figure it out.
"You're back!" cried Chip and Dale
"What happened here boys?" asked Donald
"It's Maleficent, she's trying to take over the castle again but this time she's actually here!"
"What's that smell?" asked Riku
"Is that... darkness?"
"Yeah... there's a bunch of it in the castle!"
"C'mon, we need to get to the library"
When they got to the library they spotted the king fighting off Heartless so Sora, Donald, Goofy, and Riku joined the battle.
They defeated the Heartless with ease.
"Where's Maleficent?" asked the king
"We don't know"
"Well I think I do... let's go to the Hall of the Cornerstone, and fast!"
When they got there they found Maleficent trying to turn the Cornerstone of Light into the Cornerstone of Darkness like the last time she tried to take over the castle.
"Maleficent, stop!" cried the king
"Ha, you think I'll give up by you saying stop? Not a chance, I'm taking over the castle this time and there's nothing you can do to stop me once I find The Lost Keyhole! Ha ha ha ha ha!!!"
King Mickey ran up to her but it was too late as she disappeared into thin air.
"Um... excuse me your majesty, but what's the Lost Keyhole?"
"It's the true Keyhole to all worlds"
​
Let me know what you think, the next chapter will probably be coming in the next week because I have to think about what the next chapter will beXD.
​
Last edited: