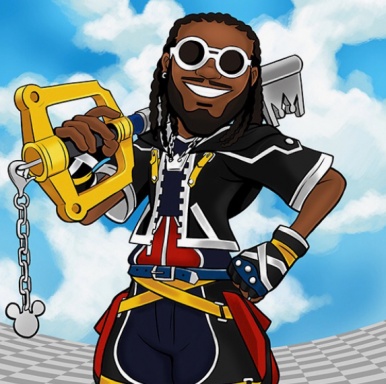 Joined

Dec 22, 2008
Messages

4,966
Awards

5
Chap. 8! Enjoy!
Kingdom Hearts: The Lost Keyhole
Chapter 8:
Sora was the last one to hop in the Gummi Ship as the group was heading to Disney Castle.
"All aboard?" asked the king.
"Yes sir!" replied everyone.
They lifted off, leaving Twilight Town behind, but before they went into space Sora saw someone, it was Riku!
"Your majesty, stop! Riku's down there!" yelled Sora.
Mickey started to land the Gummi Ship.
"You know people are gonna think we're crazy for taking off and landing again" said the king.
Sora ignored what the king said and ran out of the ship to get Riku, but Riku wasn't there.
Sora went on his hands and knees where he saw Riku.
Sora started to cry.
"He was asking us for help, and then he disappeared!" cried Sora.
"Sora! Get back on the ship, we're on a mission!" said King Mickey.
Donald and Goofy dragged Sora by his feet into the ship as Sora was sobbing.
When Sora got into the ship a bird flew into the window of the Gummi Ship, the bird held a letter.
Sora went out and picked up the letter:
You're on the right path, but you need to find me before you can go any further.
"Your majesty, that sounds a lot like Riku" said Sora.
"I know, has he been leaving the letters for us?" asked the king.
"We've been getting these letters ever since he started to act funny"
"Maybe it's because he had turned to darkness but he still wanted to help so he wrote the letters" suggested the king.
They ran to the ship and took off.
Terra was starting to worry about the king and the rest.
"They shoulda been here by now" said Terra.
"It'll be okay Terra" said Kairi.
"Did anyone miss me?" asked a familiar voice.
Riku came out of the Library with the queen, Kairi ran up to Riku and gave him a hug.
"You're hurt!" cried Kairi as she was looking at a big spot of blood on Riku's shirt. Kairi took his shirt off and started to doctor his shoulder.
"How did you get this?" asked Kairi.
"I got into a fight with this loon who's been leaving false letters for the king about The Lost Keyhole" replied Riku.
"Don't worry, they're coming" said Riku.
"So how do you know they're false Riku?" asked Terra.
"I have a hunch that the Keyhole is back at my home" replied Riku.
"You mean the Islands?"
"Yes"
"From my research the Keyhole is in The Land of Keys"
"Yes, that's true" said Riku.
"But how is it at the Islands?" asked Terra.
"The Land of Keys was never destroyed, it was just disguised" said Riku.
"It was disguised as the Islands?"
"Yep now the Crossroads are covered by homes"
"I just found out when I had a flashback of me and Sora having a wooden sword fight there" said Riku.
"So why did you leave the king and Sora?" asked Queen Minnie.
"I felt Ansem in my heart again, I was turning into a moster"
"He's the one who's leaving them the false letters"
"He's wanting them to come find him so he can kill them when they arrive" said Riku.
​
Sorry it was a short chapter but I just wanted to give you guys an update on what's going on. So think of this as Chapter 7 1/2 xD
​