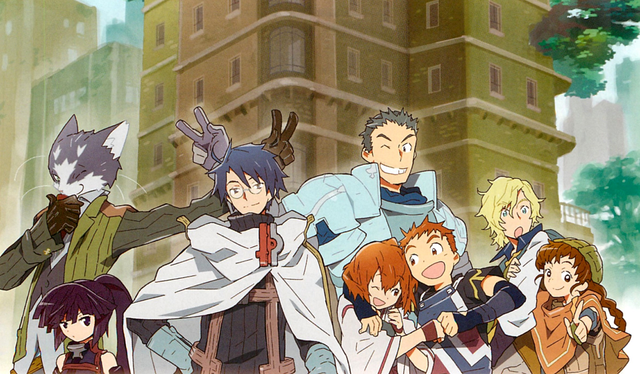 Log Horizon (ログ・ホライズン Rogu Horaizun?) is a Japanese novel series written by Mamare Touno. It was initially posted on the user-generated content site Shōsetsuka ni Narō in 2010 and subsequently published by Enterbrain since March 2011. The series follows the strategist, Shiroe, and the other players of the long-lived MMORPG Elder Tale after they find themselves whisked away into the game world following a game update. The novel has received four manga adaptations, with one based on the main story and the other three revolving around characters in the series. An anime adaptation began airing on NHK Educational TV on October 5, 2013.
Was wondering if anyone else besides Nyangoro and I were watching this show.
I didn't have particularly high expectations going in, but I was pleasantly surprised at the small details that make this show so interesting and entertaining to watch. Don't be fooled by the premise; this show is NOTHING like Sword Art Online. while sao was more about drama and romance set in an mmo, this explores mmo economics, player relations, and politics. it's not really heavy on drama, but is a pretty interesting watch. the main thing that appeals to me is that it's a pretty good depiction of mmo mechanics in a story: most of the abilities and mechanics are pretty faithful to how they'd work in actual mmo's due to the author's familiarity with games like Ultima Online and Everquest. Most of the characters' personalities actually make a surprising amount of sense given the circumstances; Akatsuki acts like a feudal ninja simply because she's a hardcore roleplayer and it's how she chooses to deal with the situation she's been thrust into.
if you guys have ever played an mmo or just want a chill show to counterbalance trigger's ridiculous over-the-top antics, this is a pretty good pickup.