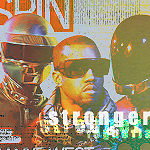 You ain't got no YEEZY!?!
Joined

Oct 5, 2005
Messages

5,680
Age

29
Location
Over ten millennia ago, Zordon of Eltar, a sorcerer who sided with good, was locked in an intergalactic struggle with Rita Repulsa, a sorceress who sided with evil. During their epic struggle, the witch managed to trap Zordon within an interdimensional time warp. However, before he was trapped, Zordon had trained five strong warriors to help him combat the evil sorceress. These five sealed Rita and her minions away in a space dumpster.
The five warriors disappeared soon afterward, and promised that they will return in the Universe's darkest hour.
With Zordon gone, the day-to-day upkeep fell to the duties of his loyal robot, Alpha 5. After the battles ceased, Zordon, using an intergalactic channel tube, decided to use Earth as his new base of operations, setting up in the deserts of California. He knew one day that Rita's confinement would not hold her forever.
And he was right.
It is the year 2011, and America has sent a team of astronauts to the Moon in response to an unexpected crash landing. When two of the astronauts discover the crashed object, they originally believe it is a dumpster, due to it's "unique" smell. Despite the protests of the other astronaut, one begins to open it, not realizing that he will inadvertently awaken an ancient evil, one that Zordon knew was coming...
Because he is unable to combat his ancient enemy himself, Zordon must gather a team of overbearing and over-emotional humans, put simply: teenagers. He will give them the ability to transform into a phenomenal fighting force known to one and all....as the Mighty Morphin' Power Rangers. But, can these teenagers, who have never bothered to become friends, put aside their differences and learn to work as a team in order to defeat Rita Repulsa? Only time will tell.
_____________________


The Story in a Nutshell​
This is a re-imaging of the Power Rangers franchise. Simply put, this RP is set in 2011, in a time of war, economic uncertainty, and a decreasing interest in justice, but features (mostly) the same characters and settings from the original 1993 hit show. However, there are minor tweaks. The five chosen teenagers have never mingled with each other outside of school, and therefore are not friends at all. Hopefully, their experiences as Power Rangers will change this.
The way this RP will move along will be through story arcs. By this, I mean that even though the MAIN point of this entire RP is to stop Rita Repulsa from conquering Earth, there will be several sub-plots that will have short AND long term effects on the RP and the sequels (if we make it that far). There will be two story arcs per RP. The first story arc is called "Power and Responsibility", which will deal with the teenagers improving their skills and learning what it takes to be heroes.
_____________________​
Rules and Other Notes​
Standard RP rules apply. I have taken to role of Jason Lee Scott, the original Red Ranger. I will also be controlling what Rita plots and unleashes on Earth. The Green Ranger, who WON'T appear until later in the RP, will need a controller. If you think you are up to the task, inbox me. All rangers, including the Green Ranger, are on a first come, first serve basis. Oh, and what would any Power Rangers story be without it's TRUE stars, Bulk and Skull? If anyone is up to the task of controlling one of them, then go for it. You may also play an ordinary citizen who is a huge Ranger fan, or be a United States government official who will began to believe that the Rangers are the cause of all the problems they fix.
_____________________​
Template​
Name:
Age: [Our versions of the original Power Rangers are 16, since they are beginning their Junior year of high school.]
Gender:
Race/Ethnicity: [If you don't know Kimberly's ethnicity, you're pretty stupid -_-]
Physical Appearance: [Either give the Rangers updated looks, such as hair style and such, or just post a link to their original appearance.]
Abilities/Skills/Talents: [What talents does this person hold? Is he/she practicing martial arts? Is he/she a proven child-genius? Though this IS a re-imaging, I recommend you DON'T stray TOO far away from the character's original traits.]
Personality: [How does this updated version of your Power Ranger tick? Is he or she a friendly person? Does it take very little to piss him/her off? Or is the character cool and collected and to themselves? You decide.]
Brief Biography: [Give the character a to-the-point background. Did he/she live somewhere else before moving to Angel Grove? What was he/she like as a young child? This shouldn't be more than 1-2 paragraphs.]
Name:
Jason Lee Scott
Age:
16
Gender:
Male
Race/Ethnicity:
White-American
Physical Appearance:
http://images3.wikia.nocookie.net/_...ason_PreMorph.png/319px-WF_Jason_PreMorph.png
Abilities/Skills/Talents:
For years, Jason has been practicing the ways of martial arts, specifically karate. He is a skilled fighter and has proven that he can defend himself against a number of human opponents. (see what I did there?)
Personality:
At first glance, Jason appears to be the stereotypical jock type, primarily interested in only sports—particularly martial arts and football. However, that is not Jason at all. He values his education at Angel Grove High School, and proves it by (so far) maintaining a 3.67 GPA. He has a heart of gold, and is a very friendly person. He is so friendly that, sometimes, he is willing to put himself in danger for his family, friends, and even people he has not met before.
Brief Biography:
On June 20, 1995, Jason Lee Scott was born in Angel Grove, California to his parents, George and Allison. As a young child, Jason never caused any problems, and was always seen as a very polite boy. His interest in martial arts grew after he was mugged by gangbangers at the age of 8. Jason's father recommended that he learn self-defense, and it was then he was enrolled in a martial arts school during each summer. Since then, Jason has become an established martial artist, though he always believes he has room to grow.
For the last two years, Jason has been attending Angel Grove High School, where he was recruited for football due to his skills at the quarterback position. Starting this school year, he will become the starting quarterback for the Angel Grove Saints varsity team. But, what he does not know is that he will also become the Red Ranger, leader of a phenomenal fighting force known to one and all...as the Power Rangers.
_____________________​
The Power Rangers
Jason Lee Scott (Crimson Jazz)

Zack Taylor (Jozi)

Billy Cranston (Von83194)

Trini Kwan

Kimberly Hart

???????? (***** *****)
Last edited: