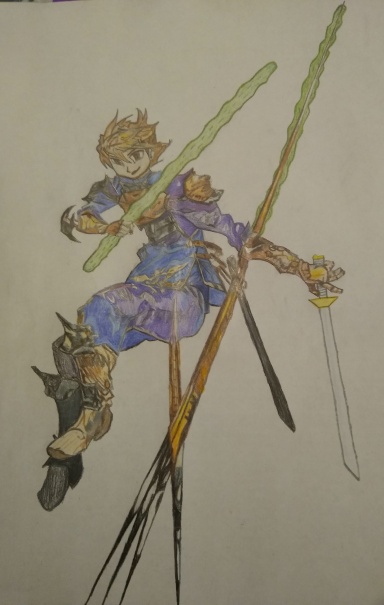 Joined

Oct 22, 2021
Messages

29
Awards

2
Well, after having a dream about taking a math class, I think God and my brain are trying to tell me something. So, I'm going to go somewhere with this:
I do believe that I am an artist at heart, but I've been drifting a bit. So, anyways, here comes the dump!
One thing that keeps (nearly keeps) bursting out of me is how much I've been analyzing the history of Final Fantasy and Kingdom Hearts and Square Enix in general. And man, THERE ARE some things that fans and people WILL FLAT OUT IGNORE.
Like I NEVER, I never see any Thanatos cosplays from Secret of Mana EVER, and I found out rather recently that he likely influenced Kefka, (and therefore) Sephiroth from the Final Fantasy series. Plus, I read that Final Fantasy IV and Final Fantasy VI had the same producers from Corona Jumper. There is a web series from the Godson of Jeremy Bulloch on YouTube (unfinished), which has Thanatos in it. That's it- all that I've seen of the character in live-action.
If people don't know about something's importance, they will trample on it, in my opinion.
Anyway, now that you have an idea of what I like to dumpster-dive into, let's get into the art:
First of all:
the gray-haired man.
Sephiroth.
Now to be honest, Sephiroth is just a statue if we boil down what he is. His name literally comes from the demon fiend statue from Final Fantasy VI.
https://finalfantasy.fandom.com/wiki/Fiend_(Final_Fantasy_VI)?file=Fiend_ffvi_concept_art.jpg
To be honest, Sepher Sephiroth even looks like it in some parts.
But anyway, I've been fascinated by this character besides Sephiroth being the "bad guy" or "this interesting guy in Final Fantasy VII". The more I deep-dove into Sephiroth, usually the more yielding and productive the experience has been. But I've about sucked the shake dry.
Now there are some things that I don't like about him- some areas you have no idea what he's thinking, but overall, he is a really great character- a 9.5/10 or even 10/10 character for me.
Anyway, classic Sephiroth: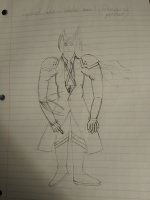 Now this is drawing Sephiroth from memory- there are some things that I didn't remember, such as his shoulder straps, even though I felt like something was missing. Also, the button at his waist I had confused with Kingdom Hearts 1 Ansem, so it messed up his design a little. But the best part about classic Sephiroth is that his lips are thin- they are not puffy, which is probably the one thing that I dislike most about the Remake- everyone has big lips. Also, the hair bangs are proportionally correct- they do not go below the bottom of Sephiroth's neck. Most recent versions of Sephiroth (including Smash!) have the front hair bangs go down to his man-breasts, and rest somewhere in the middle. This hair is too long for me, plus I remember that the longest that the hair (banana-like in the OG art is the longest it does get) is reaching the very top of the man-breasts. It does not below- it makes Sephiroth look like a woman when he already has enough hair. Plus, there is something youthful about keeping the hair bangs short- remember- Sephiroth is between 25-30 years old in the original. Technically, given how much the year "25" is tossed around, I'd say 25 is actually more accurate for Sephiroth's age, so he actually should be depicted as being younger. A lot of people want him to be old, in my opinion, he should not sound old (Newbern) unless they really nail down some of his characteristics (Morikawa, and yes, Lance Bass).
Anyway, I'll keep this thread around for discussion, posting art, etc.