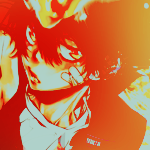 What the heck is a Premi?
Joined

Mar 3, 2006
Messages

3,728
Awards

4
Age

30
Location
Ok I'm going to make this as short and sweet as possible. AtW was Xehanorts master. Xehanorts nobody is Xemnas. Xemnas is the leader of Org. XIII. So if you think of this in a mathematical way you can say that AtW is the leader of Xehanort, which makes him the leader of Xemnas, and ultimately says that he is technically the leader of Org XIII. Now with that said, the Org. XIII icon is the black coats with hoods. AtW has access to these coats meaning that Xemnas and the Org. XIII are not the only ones with access to these coats. Since no one else beside the Org. XIII and AtW have these coats, I'm guessing that AtW got his, Riku's, and Mickey's from the same place the Org. XIII got theirs from. Now since AtW is the technical leader of Org. XIII its safe to say that, for this theory, the Org. XIII got their coats from AtW.
Now that we established that, let's move on. The MF is seen in an Org. XIII coat, yet he has yet to be seen or considered part of the Org. XIII. Nor has he been seen in any of the KH games before BBS. He uses time travel in his fighting so it's safe to say that he knows how to manipulate time. The Org. XIII as well as nobodies for that matter did not exist in BBS.
So let's get to the point. MF is from the future. His connection to the Org. XIII is signified by his coat and his weapons. They both tell us that he is indeed a nobody, and is some way connected to AtW. Now AtW used the machine in KH2 to collect data. After that incident it was made to seem that AtW had died. Well, at the end of BBS we are confronted with a memory less AtW that is not only still alive after the events of KH 2, but can recall the events of what has happened over the past 3 years. The possibility of knowing more matters not because he was not confronted with those questions. Since BBS we have all seen what a person looks like before and after the have become a nobody. I'm pretty sure AtW had what it takes to become a nobody that retains its human form.
So what is my point? I THINK the AtW we saw in the secret ending of BBS and the AtW we saw in KH2 are not the same. I THINK that AtW that we see in BBS secret ending is a nobody, and possibly… MF. I would not be surprised if they made AtW's heartless and his Nobody (MF) the new main antagonist. AtW had enough darkness in him to the point where he could shape shift freely, and use the CoD with no problem. His eyes in KH 2 were yellow. (The same color that all the strong users of darkness have.) Before that they were an orange color.
Well that's my theory… What you think?