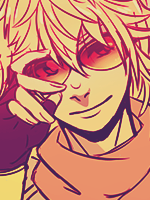 Joined

Mar 31, 2008
Messages

12,520
Awards

6
Age

32
Location
Hearing and hearing some of the stuff that Daaku said, Jaakuna was paying attention, and then he started to drift out. This was repeated for a few more moments until Daaku said that everyone would meet back at this same spot tomorrow, which was perfectly fine for Jaakuna. It would bring some opportunities to get some training done, and some preperation, as well.
Daaku had then left, and the others soon followed. This was when Sanosuke-sensei addressed his team. He addressed them in a manner that was that to have them meet him at Training Grounds 27. Jaakuna knew exactly where that was, as did the rest of his team. The only question was whether if they would go as a team or would it be like before and go separately.
"Alright, so are we gonna go together like a REAL team should or do I have to go alone?"
-----------------
Flora couldn't believe what she was hearing. Actually, yes she could. Old hags will act like how old hags would, and the fact that Kushina said that she could get Ichigo at any given moment was in perfect character. The fact of the matter is that Ichigo wasn't interested in women or perhaps he was. Half the time, Flora didn't know what went on in Ichigo's mind, but she heard the remark he made about Daaku, and Flora agreed. He's pretty yummy, and more to the point, she was interested in what he looked like.

"Yeahyeah, whatever you say." Flora snarled as she noticed Minato disappeared. For what reason, Flora didn't know, but he would be back. This is what Flora knew for sure.

-----------------
Kairo sometimes feared the calm nature of Kushina. She had a weird nature about her. At one moment, she could be all calm, and then she could throw a complete bitch fit and eventually get her way. The fact she made that remark about Ichigo even more proved his point.

Within minutes, Minato disappeared for a few minutes, and Kairo was instantly curious. Why would he just suddenly vanish? On some levels, Kairo thought that this Daaku person had something to do with it as Minato had mentioned about a dinner with the entire group. Kairo hadn't known of Daaku for much long. Actually, he didn't know of this guy until earlier today.
-----------------
It was about five minutes since Minato vanished without any reason, but it wouldn't be long until he came back, and of all people he would appear with Daaku. Of course Ichigo would be going gaga over him within minutes has he had appeared right next to Flora's brother. Ichigo made a remark about the fact that Daaku had it all in the right places. Flora couldn't deny that he was pretty sexy, but that wasn't the reason they all had gotten together.

"Been a while, hasn't it, Daaku?" Flora was happy to see him, probably not as much as Ichigo was, but she was happy nonetheless. When he mentioned that beggers can't be choosers, Flora smiled. Somewhat happy for the dinner later tonight, Flora couldn't help but want to crave some delicious Spare Ribs. It was one of her weaknesses.
"I could go for some BBQ, now that you mention it."
-----------------
When Minato arrived back onto the scene, he was with a rather fine-looking gentleman. Based on what Ichigo said, this man must be Daaku, and it was, then this dinner would be interesting. This could be his only chance to actually get to know and learn more about this guy.

"Ah, so you're the infamous Daaku that I've heard so much about." Kairo said as he approached Daaku, looking at him dead strait in the eyes, and offered out his hand. "It's nice to meet your acquaintance."
​
​