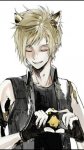 Joined

Nov 17, 2006
Messages

4,357
Awards

2
Age

34
As some of you might know, I have worked at the same grocery store in almost 3 years now and I'm still in the same position as when I started even though I'm doing a terrific job there and my bosses is really happy with me there.

I've only worked part time, but now I'm looking for a full time job and I do really want to move on to another place to work then since I need something new with more challenges.

So I've applied for the position as a store manager in some stores now and I was at a job interview today and it seems quite possible that I can get the job.

My current boss was called by the boss at the other store after my interview for references, but he called me later and tried his best to convince me to stay at my current job and used all kind of arguments.

I know that he is trying to scare me away from the new job since he still wants me to stay since I'm one of his best workers, but I want to move on.

The only thing is that he told me that I will be paid almost as much as I would have been as a store manager at the other stores if I continued working at my current job in full time, and still work a lot less than I would have done as a manager.

But on the other hand, as a store manager, I will also get the chance of building a career much faster. And I guess I have to wait forever with that at my current job since there are no open positions now.

I do personally think that taking the store manager position is the best choice if I will be offered the job, but I'm still a little confused after my boss called me.

So I'm just wondering if any other of you have any good advice or views on this?