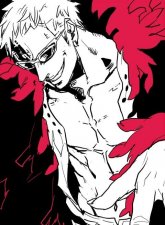 The Smiling Man
Staff member
Joined

Feb 14, 2006
Messages

5,652
Awards

12
Location
Well, that certainly explains some things.
And I'll be damned, Ansem survived. Eraqus too, it would seem. Goes to show that death really isn't a prominent theme in KH.
As someone else said I didnt expect that the whole Terranort theory would be real and like the game is just FOKH mixed into one and yet again everyone hails this man as agenius when he makes stuff so simple but he words it horriblaly to throw you off.
I thought after KH2 wed see a good game but these side games have proven to be nothing more than cash pay off.
I was wrong to hope for a ACTUALLY shocking plot.
Bawwwwwwwwwwwww!!!!!!
Some people figured out major parts of the game and now it sucks!!!!!
Xehanort's identity should have been one that no one expected, like Mickey=Xehanort!!!!!
Bawwwwwwwwwwww!!!!!
We wanted a shocker that made since.
This is hardly a shocker.
Then maybe you shouldn't have watched the trailers or read the scans.
For the longest time, Terra=Xehanort was the "big theory" and Vanitas=Xehanort was not too far behind. MX=Xehanort was far "too obvious" to be true. As for the Terra+MX=Xehanort theory, it seemed like a good amount of people thought it to be taboo. It wasn't till we saw MX acting similar to XH did a good number of people actually start thinking the Terra+MX theory to be true.

As for Vanitas, he was believed to have been Xehanort or Braig for the longest time. It wasn't until after we learn his VA and see part of his face that we figured out his identity.