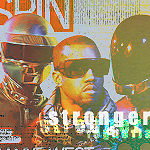 You ain't got no YEEZY!?!
Joined

Oct 5, 2005
Messages

5,680
Age

29
Location
Power Rangers
______________
Reborn​
Over ten millennia ago, Zordon of Eltar, a sorcerer who sided with good, was locked in an intergalactic struggle with Rita Repulsa, a sorceress who sided with evil. During their epic struggle, the witch managed to trap Zordon within an interdimensional time warp. However, before he was trapped, Zordon had trained five strong warriors to help him combat the evil sorceress. These five sealed Rita and her minions away in a space dumpster.
The five warriors disappeared soon afterward, and promised that they will return in the Universe's darkest hour.
With Zordon gone, the day-to-day upkeep fell to the duties of his loyal robot, Alpha 5. After the battles ceased, Zordon, using an intergalactic channel tube, decided to use Earth as his new base of operations, setting up in the deserts of California. He knew one day that Rita's confinement would not hold her forever.
And he was right. In 1993, two astronauts accidentally discovered and opened Rita's space dumpster, and the evil sorceress was released. Zordon, with the help of his trusted assistant Alpha 5, sought out five teenagers, thus creating the first generation of Power Rangers. The Power Rangers would go down in history as the greatest team of superheroes, their legacy lasting for more than a decade.
Later on, when the Space Power Rangers were the current team, the Red Ranger Andros was commanded by Zordon to shatter his energy tube to stop all the evil that was attacking the Universe. Andros did so, and thus the creator of the original Mighty Morphin Power Rangers was no more.
Evil was still around, and so were the Power Rangers. But their last incarnation, the Jungle Fury Power Rangers, were the last Ranger team ever seen. No one knows what happened to the Power Rangers, and some didn't care. This disappearance gave rise to evil, in all forms. Organized crime families began taking over the United States, wars broke out all over the world, and something is heading towards Earth.
Our story shifts to Chicago, Illinois, where one man could not stand for this tyranny.
This man, professor Raymond Pamon (Founder, President, and CEO of Pamon Technologies) sought to discover the reason why the Power Rangers were no longer around. His research led him to the conclusion that the Universal Morphing Grid, the energy field that had bestowed the power upon every Ranger, had been severely damaged. Raymond took it upon himself to repair the Morphing Grid by any means possible. After three tiresome years of working in secret, Raymond finally finished the repairs.
But somehow, his secret had been exposed, and his research lab had been attacked by a mysterious enemy. Raymond was captured, but the mysterious enemy could not find any trace of Raymond's work. Before being captured, the professor chronicled his work in a log video, and sent it to an old colleague of his, Adam Park, a former Power Ranger.
In his video, Raymond revealed to Adam that should anything unexpected happen, he would send all of his research to the one place evil could not find it: the work center located underneath his home. Adam went to this work center and discovered that Raymond had repaired the Morphing Grid.
Adam, being the good-spirited person that he is, decided to finish Raymond's work by gathering a team of Rangers to rid the world of the surrounding evil. But, even with the help of Alpha 6, he had no way of doing the basics, such as creating morphers and weapons, and designing zords. That is when the five warriors of Zordon, now dying spirits, revealed themselves once again. They could not stand to see evil have its way once again, and decided to help Adam in all this. They chose five young teenagers: Michael Pamon, the son of Raymond Pamon, Evan Watanabe, Ricardo Cervantes, Amy Fisher, and Kya James.
Together, with the power given to them by the ancient warriors, these teenagers will become...
The Samurai Power Rangers!
Finally, a new generation of Power begins. But this new team must work fast. Evil is coming, and it is coming soon.​
_______________________
What I have just shown to you is the back story to my new fan fiction, Power Rangers: Reborn. The first episode,
The Power Reborn
, is done, and will be posted right away. If you have any questions, please post them in this thread.
PLEASE, critiques, constructive criticism, and personal opinions are MORE than welcome.
Also, blame the Japanese if you don't like the helmets of the team >_>
Last edited: