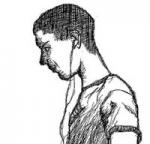 Joined

Apr 21, 2005
Messages

3,777
Age

35
Hmmm I don't know but it seems that you are contridicting on what you just said... though it's IMO. Also you say this as if it were fact,well have you ever stop to think that someone else can actually help her though it? I mean if she actually allows it. hmmm Now I've raised a few questions myself.
How's that going to work?
Person who wants to help: "Stop being depressed."
Her: "Ok then."
And they all lived happily ever after.
Why is it that I seem to be the only person who lives in the real world rather then deluding and lying to myself with romantic notions, overused empty phrases, or blind faith?