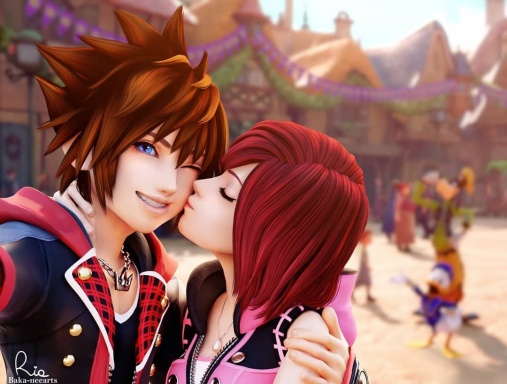 Joined

Apr 4, 2020
Messages

79
Awards

0
Age

25
Location
Sorry for the second post I'm new to this community as I didn't know it existed but I'm seeing a lot of talk about relationships in Kingdom hearts which is weird as theres already some pretty set answers about it that are already cannon. Such as Kairi and Sora and indeed in a relationship. This is a copy and paste of a reply I gave someone else basicly explaining why its already confirmed.
The relationship between Kairi and Sora has already been set. When they shared the paopu fruit that was essentially them saying, yes, we are together. They explained in KH one that whenever two people share one of those fruits their destiny becomes one and they will be together forever. In KH3 when they share one they are doing it because they are pretty much saying, I love you., to each other and are making that a symbol of them being together. I hope for much more romance built up between them and for gods sake maybe just MAYBE they will actually let Riku, Kairi, and Sora STAY TOGETHER and find a new way to continue plots other then rewriting the same thing over and over again. oh they gotta find each other... I have that as a new topic elsewhere so I wont continue that here but as for romances the BULK of the game is, "my friends are my power" there are guys and girls friends everywhere specially with Sora. but Sora has ALWAYS held a special spot for Kairi that is all hers. I think the game has done a great job of keeping the "my friends are my power" feel while still keeping Kairi and Sora as a couple that are suppose to be together. for those stating there isnt a lot of romance. well there is. its just very subtle. such as them sharing the paopu fruit. The reasoning for this being again, "my friends are my power" is suppose to be the main emphasis. however I feel that point has been made and its time to mature and more romance between kairi and sora and maybe even other characters would be nice.
Basically that sums everything up pretty well. Relationships are a thing in kingdom Hearts but as the emphasis is on "my friends are my power", they are trying to keep it subtle. Though as the series continues I personally would like to see it pushed more and see relationships more heavy not jsut with Sora and Kairi but others as well as I mentioned above. I just figured I should post this somewhere everyone can see it as there is a lot of side talk about it which confused me cause Its already cannon and a thing (happily and thankfully. sorry for those who dont want it and I do understand you'r points but I do feel they are doing a good job of having relationships but keeping the emphasis on friendship.). I personally wish for more relationships and Sora's and Kairis to grow more and become more obvious and promement (hopefully I spelt that right, sorry xD ). With that said, lets take a lesson from kingdom hearts, Lets all be friends and not fight about this!