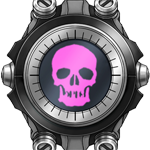 Joined

Jun 29, 2008
Messages

5,737
Awards

1
Age

32
Remember me? Doubt it, I haven't been here in about two years cause I..... There isn't an actual reason but I'm back.

I used to be Byronic Hero/Keyblade_Masta before my hiatus, I was quite a "Theory-breaker" back then.

Remember the days of the Rep system? Riku-Keyblade, Suffering Angel, Gildragon and me all being such "rep-whores"? Ahh memories. I even ran the HotH contest a couple years back.

Whatever, I'm back. Who cares?