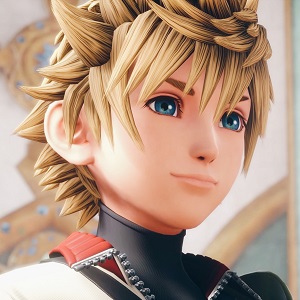 Joined

Oct 22, 2010
Messages

10,379
Awards

27
Location
The first fight would be their in-game duel at the end of days.
The second fight would be during the cinematic afterwards.

At least that's how I see it. They had a short run-in at the beginning of days but since Riku never attacked you can't count that as a real fight.
That's most likely how it is meant to be understood in the current canon of the series. Strictly spoken Riku and Roxas do fight twice (possibly even thrice) in short order. Some may count this as one fight having several rounds but it may also be interpreted as several fights directly coming after each other.
Roxas even says something along the lines of "how often do I have to beat you?" which made Riku realize that by fighting "fair" he would never win, hence then turning cheat-mode on in the form of "Ansem SoD+Guardian"-power up.
And I suppose it makes sense that Soul Eater ins't Way to the Dawn, because wasn't the wooden Keyblade Ven's intermediary weapon? And that certainly didn't turn into Wayward Wind for him, so it's only logical that Soul Eater wouldn't break the rules and turn into a Keyblade.

The only odd one out here seems to be Roxas, as the stick he used in II really did seem to turn into Kingdom Key, but meh.

You know, this whole thing is a plot point I wished Nomura explored more. It always seemed like he had meant to, but then he just kind of dropped it.

And this is getting WAY off topic and I apologize, guys.
Err no, the wooden Keyblade is/was a toy crafted by Terra which was then gifted to Ventus. It does not have any powers or special characteristics except the sentimental value Ven himself places on it nor is it in any way related to the Wayward Wind.
Ven already had Wayward Wind even as a child while training under Xehanort as seen in the Flashback with the Heartless.
The context is important here as all this happened in the
digital
Twilight Town, hence why the "stick" was used as an intermediary due to DiZ/Naminé programming it that way. It's not really a real stick that functions as an intermediary for the Kingdom Key itself.
The mere fact that Riku can still summon both Soul Eater and Way to the Dawn independent from each other implies though that while the sword has indeed been served as a "template" for the Way to Dawn to come into being it is not a Keyblade itself.
How
exactly
Riku got chosen by the Way to Dawn and how it came into being is however truly a still unexplored mystery.